California Historical Landmark 532
Casa del Oro
Olivier and Scott Streets
Monterey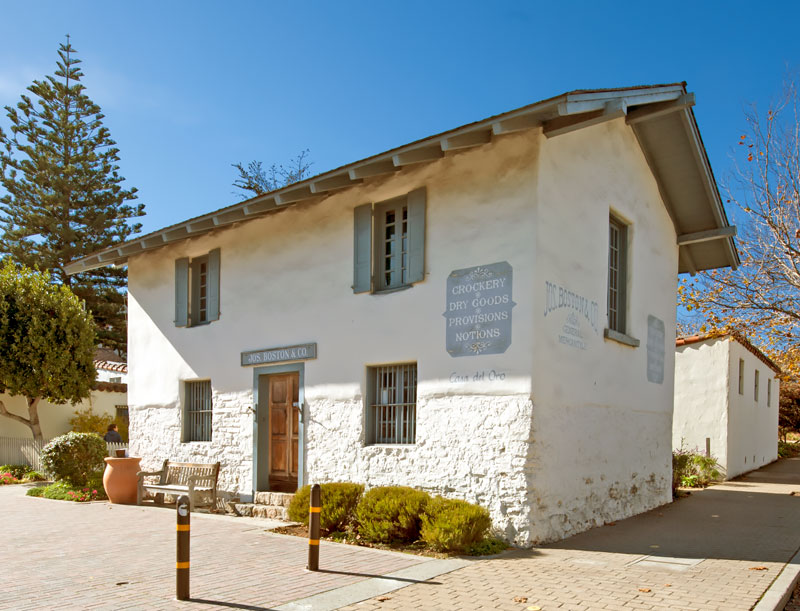 22 November 2012
(Click Photo to Zoom)
Casa del Oro
In the 1850s this building was a general merchandise store operated by Joseph Boston & Co. In later years it was called Casa del Oro because of the unverified story that it had been a gold depository.
Citation from California Office of Historic Preservation

This two-story limestone rock and adobe building was built by Thomas O. Larkin around 1845. Several years later, Joseph Boston leased the structure to operate one of the first general merchandise stores in the area.
When we visited the site in November 2012, it was operated by the Historic Garden League of Monterey as The Boston Store and the Picket Fence Garden Shop.
Casa del Oro contributes to the Old Town Historic District which is a National Landmark.
We were unable to locate a California historical marker for Casa del Oro.

Historic Adobe Buildings

Some Missing California Plaques
When we visited the following sites, we were unable to locate a California commemorative plaque.
At some sites, it appeared that a California plaque had never been erected. At other sites, there was a base, but the plaque itself was missing. Some sites without California plaques had other historic markers, but they did not note that the site is a California Historical Landmark.