California Landmark 11
Noble Pass Route
State Route 44
Lassen Volcanic National Park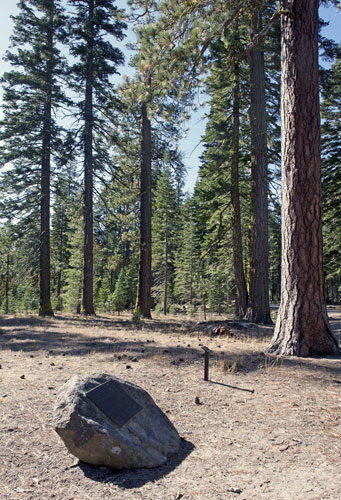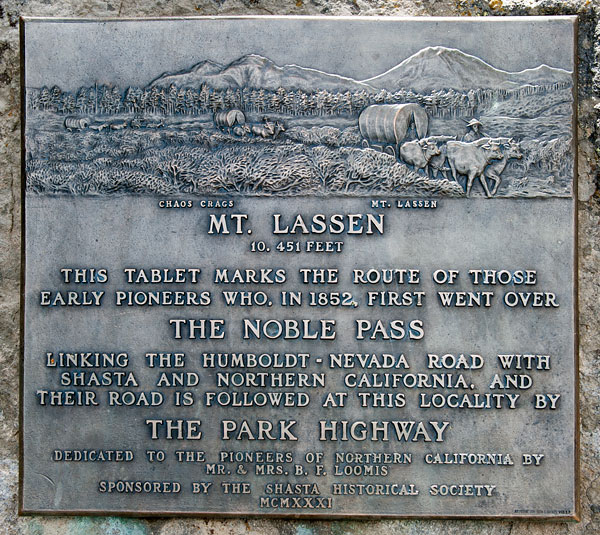 25 September 2013
(Click Photos to Zoom)
Mt. Lassen
10,451 Feet
This tablet marks the route of those early pioneers who, in 1852, first went over
The Noble Pass
linking the Humboldt-Nevada Road with Shasta and northern California, and their road is followed at this locality by
The Park Highway
Dedicated to the pioneers of Northern California by Mr. & Mrs. B. F. Loomis
Sponsored by the Shasta Historical Society
MCMXXXI

We were unable to locate a California Bear Flag marker for Noble Pass Route. The California Office of Historic Preservation offers the following citation at
ohp.parks.ca.gov
.
Noble Pass Route
William H. Noble, accompanied by a party of citizens, showed the route for a wagon road across the Sierra Nevada in May 1852. It was from this point that emigrants got their first glimpse of the Sacramento Valley.

William Noble or William Nobles?
Some documents and historical markers refer to William H. Nobles. Others refer to William H. Noble.
This discrepency leads to many variants in the spelling of the emigrant trail: Noble Trail, Nobles Trail, Noble's Trail and Nobles' Trail.