California Historical Landmark 596
Booth Home Site
1015-17 Front Street
Sacramento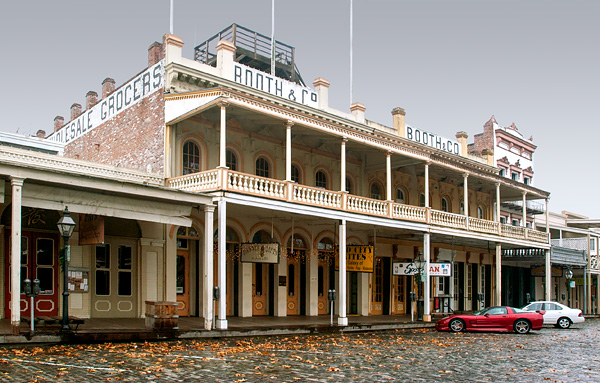 2 January 2009
(Click Photo to Enlarge)
Site of Newton Booth Home
This is the site of the store and home of Newton Booth, Governor of California 1871-1873 and U.S. Senator 1873-1879.
Citation from California Office of Historic Preservation

The Newton Booth Home Site contributes to the
Old Sacramento Historic District
which is a National Historic Landmark.
We were unable to locate a bear flag plaque for the Newton Booth Home Site. Here's a list of other California Historical Landmarks which had no bear flag plaque when we visited them.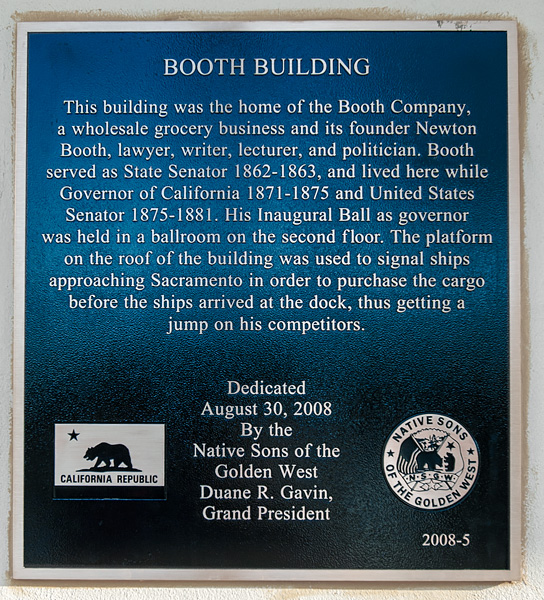 3 January 2009
(Click Photo to Enlarge)
Booth Building
This building was the home of the Booth Company, a wholesale grocery business and its founder Newton Booth, lawyer, writer, lecturer, and politician. Booth served as State Senator 1862-1863, and lived here while Governor of California 1871-1875 and United States Senator 1875-1881. His Inaugural Ball as governor was held in a ballroom on the second floor. The platform on the roof of the building was used to signal ships approaching Sacramento in order to purchase the cargo before the ships arrived at the dock, thus getting a jump on his competitors.
Dedicate August 30, 2008
By the Native Sons of the Golden West