California Historical Landmark 134
Donner Monument
AKA Pioneer Monument
Donner Memorial State Park
Old Highway 40 at I-80 and Truckee Exit
Truckee
Year 1877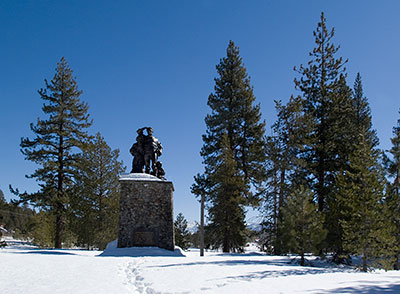 28 February 2008
(Click Photo to Zoom)
Donner Monument (or) Pioneer Monument
Commemorates the ill-fated Donner party of California-bound emigrants, who wintered here in 1846-1847, many died of exposure and starvation.
Citation from California Office of Historic Preservation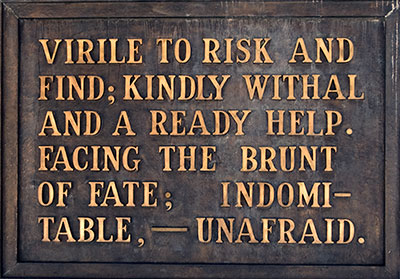 28 February 2008
(Click Photo to Zoom)
VIRILE TO RISK AND FIND;
KINDLY WITHAL AND A READY HELP.
FACING THE BRUNT OF FATE;
INDOMITABLE, - UNAFRAID.

Some Missing California Plaques
When we visited the following sites, we were unable to locate a California commemorative plaque.
At some sites, it appeared that a California plaque had never been erected. At other sites, there was a base, but the plaque itself was missing. Some sites without California plaques had other historic markers, but they did not note that the site is a California Historical Landmark.