California Historical Landmark 777
San Joaquin City Site
Opposite 31167 Kasson Road
Tracy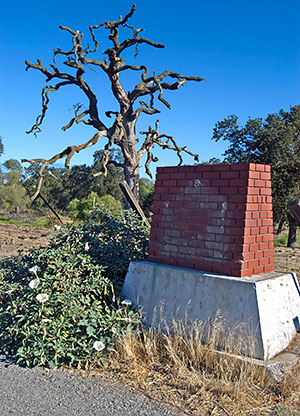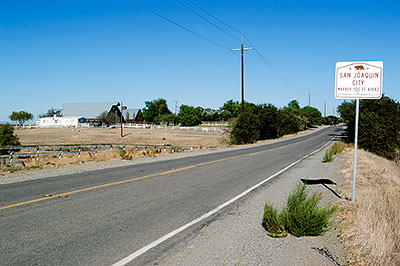 8 September 2012
(Click Photos to Zoom)
San Joaquin City Site
This river town was established in 1849. Pioneers and freight wagons following post roads to the southern mines crossed the river nearby at Durham's Ferry, and as a terminal for riverboats, the town played an important part in development of west side grain farming and cattle raising.
Citation from California Office of Historic Preservation

The fifty-pound, bronze plaque is missing.
The family residing across the street reported its disappearance to the County Sheriff in October, 2005, according to Jake Armstrong reporting in the 9 June 2007 edition of the Stockton Record.
According to the Record, "the agencies whose names are emblazoned on the face of the plaque - the California State Park Commission and the San Joaquin County Historical Society - did not know it was even missing or who is responsible for maintaining it."
Replacement of the plaque seems unlikely. A spokesperson for the California Office of Historic Preservation told Mr. Armstrong that the office does not know who owned the plaque and that the State of California does not replace missing plaques. Plaques commemorating California Historical Landmarks are sponsored and financed by citizens.
Although there is no evidence in this case, theft of copper and copper alloys by methamphetamine users has become an increasing problem in the Central Valley as copper prices and drug usage have risen. (See Jennifer Steinhauer's report from Buttonwillow, California, in the 31 July 2007 edition of the New York Times.)

Some Missing California Plaques
When we visited the following sites, we were unable to locate a California commemorative plaque.
At some sites, it appeared that a California plaque had never been erected. At other sites, there was a base, but the plaque itself was missing. Some sites without California plaques had other historic markers, but they did not note that the site is a California Historical Landmark.