California Historical Landmark 511
Vicente Martínez Adobe
4202 Alhambra Avenue
Martinez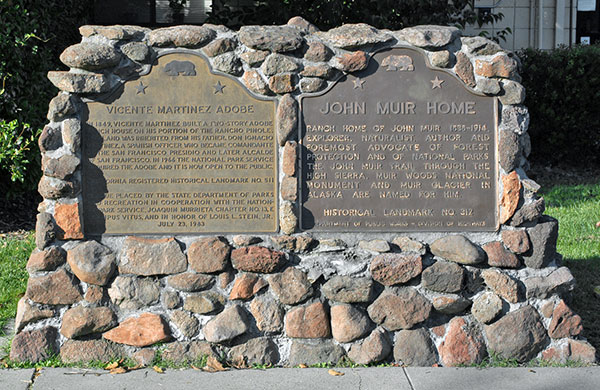 Vicente Martinez and John Muir Commemorative Plaques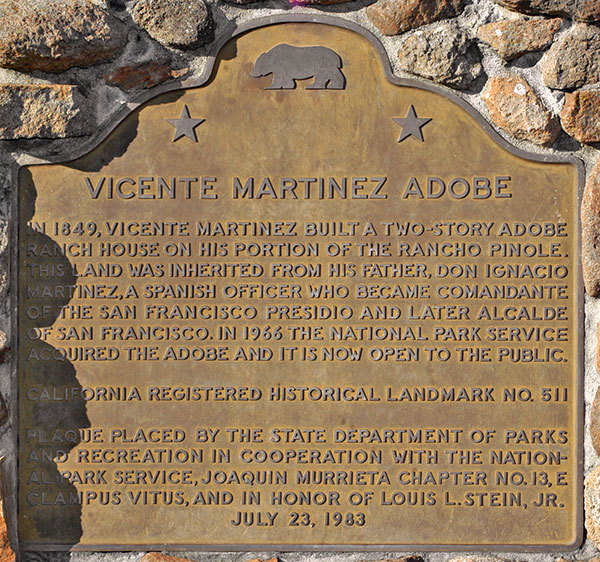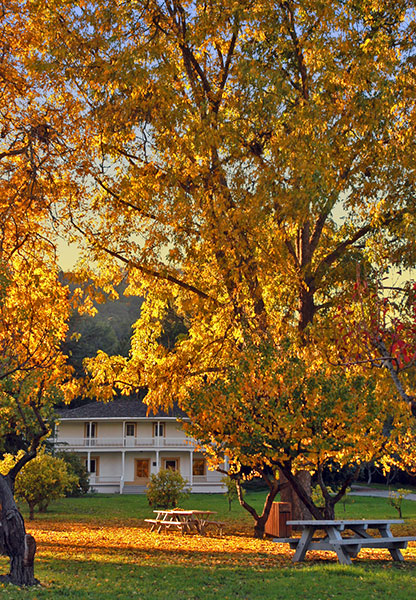 17 November 2004
(Click Photo to Zoom)
Vicente Martínez Adobe
In 1849, Vicente J. Martínez built a two-story adobe ranch house on his portion of the Rancho Pinole. This land was inherited from his father Don Ignacio Martínez, a Spanish officer who became Commandante of the San Francisco Presidio and later Alcalde of San Francisco. In 1966 the National Park Service acquired the adobe and it is now open to the public.
California Registered Historical Landmark No. 511
Plaque placed by the State Department of Parks and Recreation in cooperation with the National Park Service, Joaquin Murietta Chapter No. 13, E Clampus Vitus, and in honor of Louis L. Stein, Jr.
July 23, 1983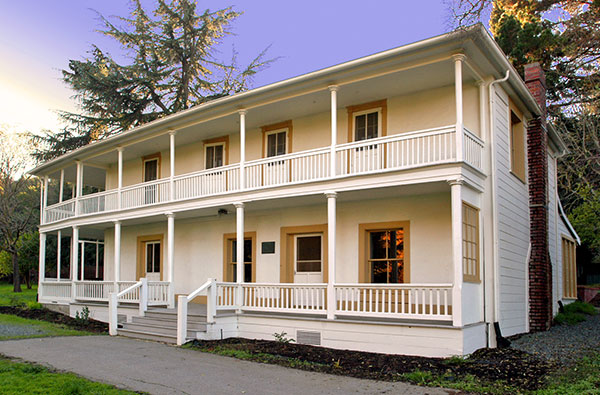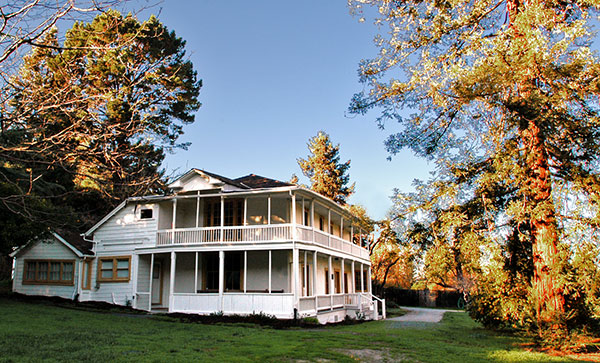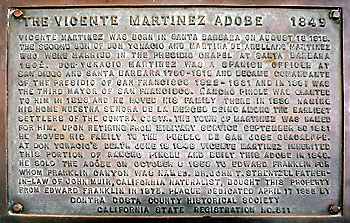 17 November 2004
(Click Photos to Zoom)
The Vicente Martínez Adobe 1849
Vicente J. Martínez was born in Santa Barbara on August 18, 1818, the second son of Don Ygnacio and Martina de Arellano Martínez who were married in the Presidio Chapel at Santa Barbara 1802. Don Ygnacio Martínez was a Spanish officer at San Diego and Santa Barbara 1788-1819 and became Commandante of the Presidio of San Francisco 1822-1831 and in 1837 was the third mayor of San Francisco. Rancho Pinole was granted to him in 1823 and he moved his family there in 1836 naming his home Nuestra Senora de la Merced being among the earliest settlers of the Contra Costa. The town of Martinez was named for him. Upon retiring from military service September 30, 1831, he moved his family to the Pueblo de San Jose Guadalupe. At Don Ygnacio's death June 18, 1848, Vicente Martínez inherited this portion of Rancho Pinole and built this adobe in 1849. He sold the adobe on October 6, 1853, to Edward Franklin for whom Franklin Canyon was named. Dr. John T. Strenzel, father-in-law of John Muir, California naturalist, bought this property from Edward Franklin in 1875.
Plaque dedicated April 17, 1955, by Contra Costa County Historical Society
California State Registration No. 511