California Historical Landmark 480
Plumas House Site
Main and Court Streets
Quincy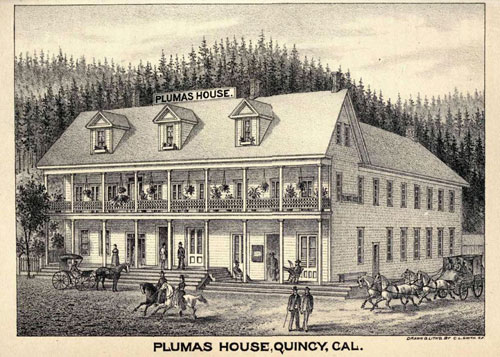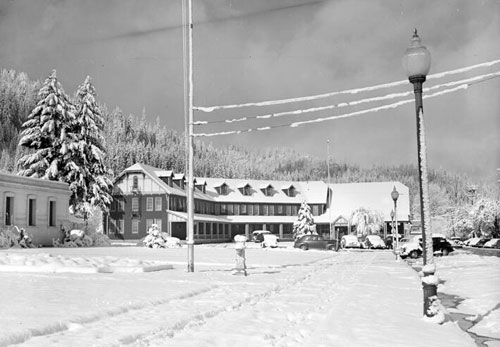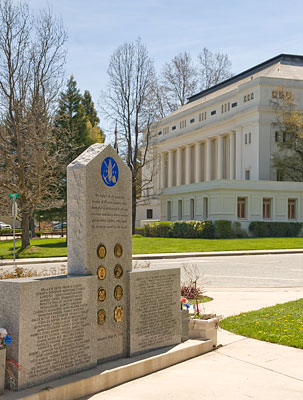 Plumas County Veterans Memorial
Site of Plumas Hotel
County Courthouse in Background
2 May 2010
(Click Photos To Zoom)

The original Plumas Hotel, built in 1853, was destroyed by fire in 1863. James Edwards rebuilt the hotel in 1866. This second Plumas Hotel, one of the grandest in the mountains, survived until 1923 when it was likewise destroyed by fire. Two years later, the second Plumas Hotel was replaced by the Hotel Quincy, but it, too, burned in 1966.
Today this property, adjacent to the grounds of the Plumas County Courthouse, is named Dame Shirley Plaza and contains the Plumas County Veterans Memorial.
We were unable to locate a commemorative plaque for Plumas House. If you know of one, please contact NoeHill.

Site of Plumas House
The first and second Plumas Houses were built on this site. The second was built in 1866 by James and Jane Edwards. This hotel, the center of Quincy's social and business life for more than thirty years, burned to the ground on June 23, 1923.
Citation from California Office of Historic Preservation

Some Missing California Plaques
When we visited the following sites, we were unable to locate a California commemorative plaque.
At some sites, it appeared that a California plaque had never been erected. At other sites, there was a base, but the plaque itself was missing. Some sites without California plaques had other historic markers, but they did not note that the site is a California Historical Landmark.