California Historical Landmark 353
House of Four Winds
540 Calle Principal
Monterey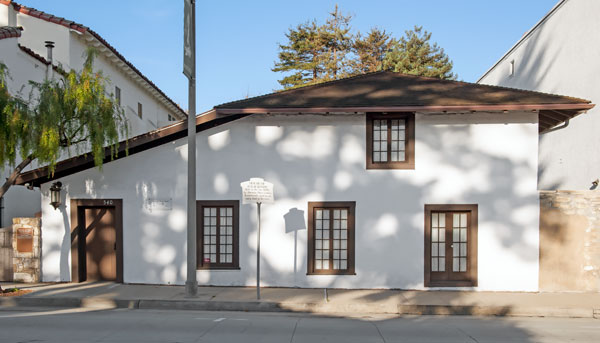 22 November 2012
(Click Photo to Zoom)
House of Four Winds
In the late 1830s, Thomas Oliver Larkin built the House of Four Winds, named for the weather vane in his garden. Tradition says the building was used as an early hall of records.
Citation from California Office of Historic Preservation

La Casa de Los Vientos was first used as the residence of the Spanish governor of Alta California Juan Bautista Alvarado. Later, it was the first Hall of Records in the State of California for the newly formed County of Monterey.
The Women's Civic Club was one of the first groups to encourage the preservation of the historic adobes of Monterey in 1906. The House of the Four Winds was purchased by the club in 1914 and transformed into their club house.
This adobe is believed to be the oldest such club house in the United States.
Source: Old Monterey Foundation

We were unable to locate a California historical marker for the House of Four Winds.

Historic Adobe Buildings

Some Missing California Plaques
When we visited the following sites, we were unable to locate a California commemorative plaque.
At some sites, it appeared that a California plaque had never been erected. At other sites, there was a base, but the plaque itself was missing. Some sites without California plaques had other historic markers, but they did not note that the site is a California Historical Landmark.