California Historical Landmark 684
Sam Brannan Store
203 Wapoo Avenue at Grant Street
Calistoga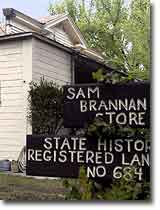 (Click Photo to Zoom)
Sam Brannan Store
Sam Brannan arrived in Napa Valley in the late 1850s and purchased a square mile of land at the foot of Mount St. Helena. This is the store he built, in which he made $50,000 in one year.
Citation from California Office of Historic Preservation

Sam Brannan's store still stands in a quiet Calistoga neighborhood, but we were unable to locate the official commemorative plaque.

Some Missing California Plaques
When we visited the following sites, we were unable to locate a California commemorative plaque.
At some sites, it appeared that a California plaque had never been erected. At other sites, there was a base, but the plaque itself was missing. Some sites without California plaques had other historic markers, but they did not note that the site is a California Historical Landmark.