California Historical Landmark 126
Colton Hall
Pacific Street Between Jefferson and Madison
Monterey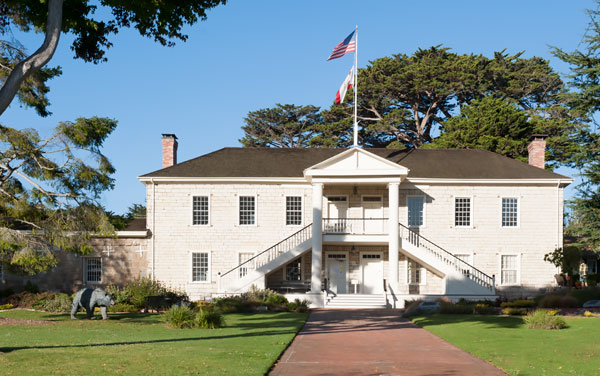 22 November 2012
(Click Photo to Zoom)
Colton Hall
In this building met the convention that drafted the Constitution under which California was admitted to statehood on September 9, 1850. Robert Semple was chairman and William G. March secretary. The 48 delegates met from September 1 to October 15, 1849 on the upper floor, which ran the length of the main building. The stairway leading to the convention hall was in the rear of the building. Rev. Walter Colton, first American alcalde in Monterey, erected this building as a public hall and schoolhouse, he and Robert Semple established California's first American newspaper in Monterey on August 15, 1846.
Citation from California Office of Historic Preservation

Colton Hall contributes to the Old Town Historic District which is a National Landmark.
We were unable to locate a California historical marker for Colton Hall.

Some Missing California Plaques
When we visited the following sites, we were unable to locate a California commemorative plaque.
At some sites, it appeared that a California plaque had never been erected. At other sites, there was a base, but the plaque itself was missing. Some sites without California plaques had other historic markers, but they did not note that the site is a California Historical Landmark.