California Historical Landmark 142
Studebaker's Shop Site
543 Main Street
Placerville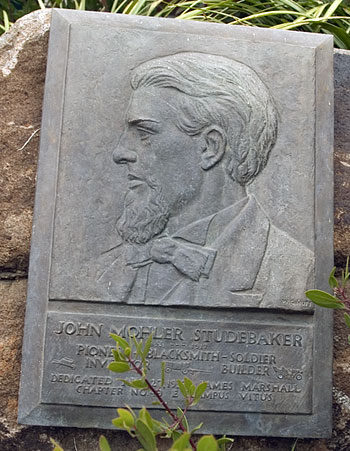 24 February 2007
(Click Photos to Zoom)
Site of Studebaker's Shop
This shop was built in the early 1850s. The front part housed a blacksmith shop operated by Ollis and Hinds, and John Mohler Studebaker rented a part of the rear. Here he had a bench and sort of woodworking shop where he repaired and worked on wagon wheels and the like. A little later he began to make wheelbarrows for the miners' use. He became engaged in the making of ammunition wagons for the Union Army - from that grew his extensive wagon and carriage business and, eventually, the automobile business.
Citation from California Office of Historic Preservation

Many years ago, you could have bought a wheelbarrow, a wagon, a carriage, or even an automobile at this address.
When we visited in 2007, we could visit Quiznos for an Large Ultimate Italian Sandwich (double portion of salami, pepperoni, capicola, ham, and mozzarella, topped with sliced tomato, basil pesto, red onion, spring mix and balsamic vinaigrette dressing) then drop into Starbucks for a venti half-decaf, foamy organic caffè latte with two shots of sugar-free hazelnut syrup.
The rigors of the Overland Emigrant Trail have lessened considerably.

We were unable to locate a bear flag plaque for this landmark. Here's a list of other California Historical Landmarks which had no bear flag plaque when we visited them.