California Historical Landmark 292
Lola Montez Home
248 Mill Street
Grass Valley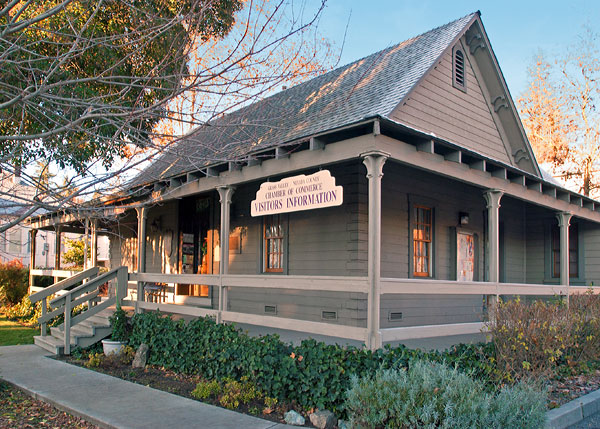 15 December 2005
(Click Photo to Zoom)
Home of Lola Montez
Lola was born in Limerick, Ireland on July 3, 1818, as María Dolores Eliza Rosanna Gilbert. After living in England and on the continent, Lola came to New York in 1851 and settled in Grass Valley in 1852. It was here she built the only home she ever owned and became friends with Lotta Crabtree, who lived up the street. Lola died January 17, 1861 and was buried in Greenwood Cemetery, New York.
Citation from California Office of Historic Preservation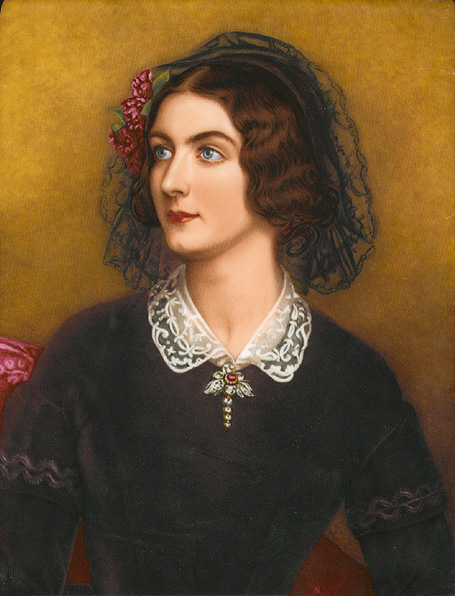 Lola Montez (1847)
Painted by Joseph Karl Stieler for the Schönheitengalerie
Of Ludwig I of Bavaria

With her sensational spider dance, Lola burst upon San Francisco like a bombshell, making excellent copy for the newspapers with stories of her many marriages and her claim that she was the illegitimate daughter of Lord Byron.
Offstage she dressed in the Byronic mode, wearing black jackets and wide rolling collars. Bronze-skinned, blue-eyed, she made a striking appearance strolling along the San Francisco streets, with two greyhounds on a leash and an enormous parrot upon her shoulder. She constantly smoked small cigars, forced her way into gambling saloons forbidden to women, and played tenpins with any male daring enough to take her on.
A tigress," said one newspaper writer, "the very comet of her sex."
Lola's celebrated spider dance shocked and titillated her audiences; the spiders were ingenious contraptions made of rubber, cork, and whalebone.
She gave a spectacular benefit for an audience of San Francisco firemen, and they showered the stage with their fancy helmets and almost smothered her with enormous bouquets of flowers.
Source: The Gentle Tamers: Women of the Old West by Dee Brown, 1958.

Some Missing California Plaques
When we visited the following sites, we were unable to locate a California commemorative plaque.
At some sites, it appeared that a California plaque had never been erected. At other sites, there was a base, but the plaque itself was missing. Some sites without California plaques had other historic markers, but they did not note that the site is a California Historical Landmark.