California Historical Landmark 549
Frog Woman Rock
Highway 101
South of Hopland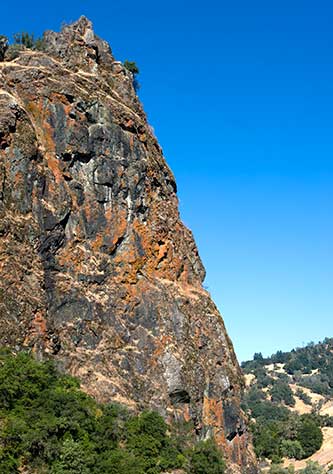 12 September 2010
(Click Photos to Zoom)
Frog Woman Rock
Frog Woman Rock is a site associated with the Pomo legend of Frog Woman, the clever and powerful wife of Coyote, who lived near this rock.
Citation from California Office of Historic Preservation

Historical movies reveal as much about the period in which they were shot as the period which they portray. Classical Rome as depicted in
The Robe
(1953) has little in common with classical Rome as depicted in
Gladiator
(2000).
California Historical Landmarks similarly reveal the biases of their year of designation, both in the choice of the event commemorated and in the wording of the commemoration. Early designations celebrated the adventures of great men. American Soldiers and explorers, Spanish priests, pioneers, 49ers, the Pony Express, the transcontinental railroad. In 1953, San Francisco author Irving Stone published a book about these men with a title which reflected the spirit of California in the 1950s: Men to Match My Mountains - The Monumental Saga of the Winning of America's Far West.
Newer California historical designations are unfailingly politically correct. (And newer books have titles like Imperial San Francisco: Urban Power, Earthly Ruin, Gray Brechin, 1999.)
On occasion, the California State Historical Resource Commission chooses to revise history to make it less offensive and perhaps more accurate.
Until 2011, Frog Woman Rock was named Squaw Rock. The name change was prompted by research which determined that in the dialect of the central Pomo Indians, the rock is named Maatha kawao qhabe, which translates to frog woman rock. And by the name change was prompted by the fact that many people find the word squaw offensive.
Alas, the commission excluded the most colorful bit of the legend from their description:
Frog Woman had a beautiful human face and the body of a frog. She could jump 100 feet and snatch a man who she would devour after he gave her pleasure, according to the historians' report.
It is probably for the best that the historical site had no plaque with the old inscription:
Squaw Rock
This early landmark, also called Lover's Leap, is associated with the purported legend of a 19th-century Sanel Indian maiden, Sotuka. Her faithless lover, Chief Cachow, married another, all three were killed when Sotuka, holding a great stone, jumped from the precipice upon the sleeping pair below.
Citation from the book California Historical Landmarks, published 1996 by California State Parks

Some Missing California Plaques
When we visited the following sites, we were unable to locate a California commemorative plaque.
At some sites, it appeared that a California plaque had never been erected. At other sites, there was a base, but the plaque itself was missing. Some sites without California plaques had other historic markers, but they did not note that the site is a California Historical Landmark.