California Historical Landmark 356
Don Francisco Maria Castro Home
9800 San Pablo Avenue
El Cerrito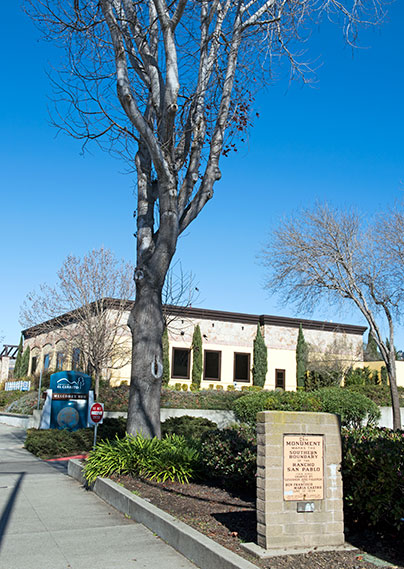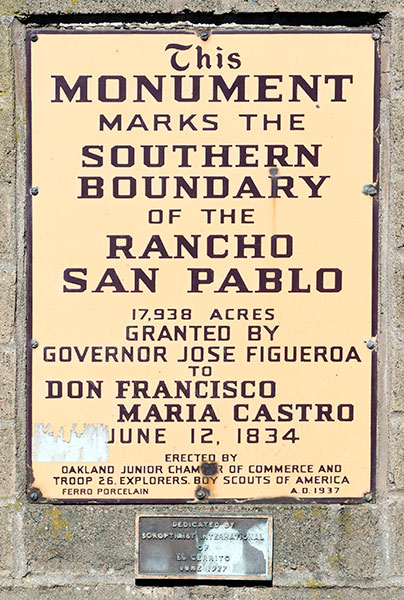 31 January 2016
(Click Photos to Zoom)
This monument marks the southern boundary of the Rancho San Pablo
17,938 acres granted by Governor Jose Figueroa
To Don Francisco Maria Castro
June 12, 1834
Erected by Oakland Junior Chamber of Commerce
And Troop 26. Explorers. Boy Scouts of America
Ferro Porcelain
A. D. 1937
Dedicated by
Soroptimist International of El Cerrito
June 1977

Castro Home
The El Cerrito adobe, as it was known because it was built near the north bank of El Cerrito Creek, was one of the adobes built by the Castro family on Rancho San Pablo. It was destroyed by fire in April 1956.
Citation from California Office of Historic Preservation

We have photographed only one other historic marker sponsored by the Boy Scouts of America:
California Historical Landmark 125
, the Evans and Bailey Fight, in Modoc County.

On August 23, 2006, a former resident of El Cerrito sent us the following information:
I grew up in El Cerrito and lived in that city from 1947 through 1964.
Prior to the 2002 reconstruction of El Cerrito Plaza, near the central part of the northern edge of the block containing stores (possibly at about where either Talbot or Cornell streets would intersect the Plaza if they extended that far), there existed a large plaque detailing the history of the site, including the Castro Rancho San Pablo, its usage as a gambling facility, and the fire which destroyed it. When I visited the "new" El Cerrito Plaza, I was dismayed to note that all traces of that plaque - and the site where it was - were no where to be found - presumably destroyed during that renovation/reconstruction.

Restoration work on Cerrito Creek along the same north side of the Plaza (from looking at maps, I think it is actually along the boundary between the city of Albany in Alameda county and the city of El Cerrito in Contra Costa county.) I "Goggled" "El Cerrito Creek" and found a lot of information.

Historic Adobe Buildings

Some Missing California Plaques
When we visited the following sites, we were unable to locate a California commemorative plaque.
At some sites, it appeared that a California plaque had never been erected. At other sites, there was a base, but the plaque itself was missing. Some sites without California plaques had other historic markers, but they did not note that the site is a California Historical Landmark.