California Historical Landmark 876
City of Paris Building
Intersection of Geary and Stockton Streets
Built 1896
Repaired 1909
Demolished 1981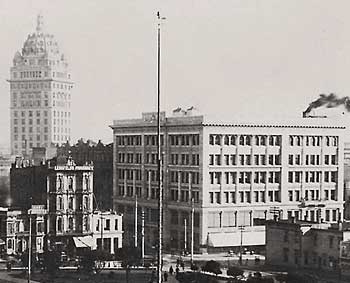 City of Paris in 1898
The highrise building is the Call Building, which
also survived the 1906 Earthquake and Fire and
still stands on Market Street.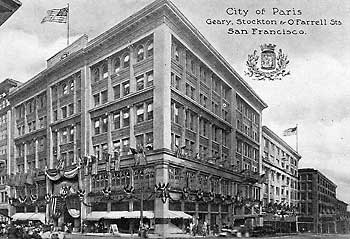 City of Paris Reopens After the 1906 Earthquake
and Fire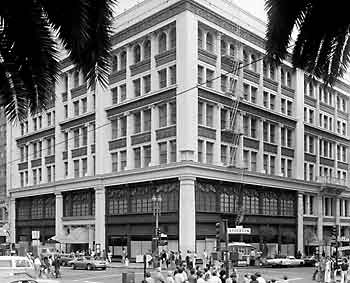 City of Paris in 1979
(Click Photos to Zoom)
City of Paris Building
It was 1850 when the Verdier brothers, immigrants from France, opened a store aboard the ship La Ville de Paris to serve the Argonauts passing through San Francisco's harbor. In 1896 the business, which stayed in the family for over a century and a quarter, moved into a new building designed by architect Clinton Day, damaged by the 1906 earthquake, its interior was reconstructed by architects John Bakewell and Arthur J. Brown. The old City of Paris building was one of the finest examples of the beaux-arts style of commercial building in California.
Citation from California Office of Historic Preservation


Some Missing California Plaques
When we visited the following sites, we were unable to locate a California commemorative plaque.
At some sites, it appeared that a California plaque had never been erected. At other sites, there was a base, but the plaque itself was missing. Some sites without California plaques had other historic markers, but they did not note that the site is a California Historical Landmark.