California Historical Landmark 209
Bend City
Mazourka Canyon Road
East of Independence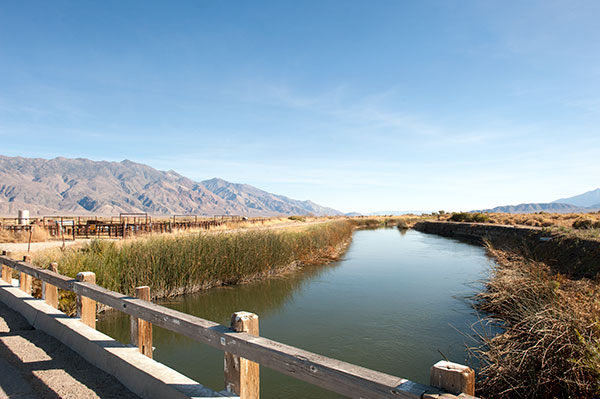 The Owens River and Inyo Mountains Near the Site of Bend City.
2 November 2012
(Click Photo to Zoom)
Bend City
Bend City, a population center in the middle 1860s, was designated as the seat of Coso County, but the county was never formed. It was here that the first county bridge across Owens River was constructed. The 1872 earthquake changed the course of Owens River, so the site of Bend City was near an empty ravine instead of on a river bank.
Citation from California Office of Historic Preservation

William H. Brewer, working for the State Geologist Josiah Whitney, visited Bend City on 28 July 1864. He wrote in his journal:
"Mines of silver and gold were discovered in the Inyo Mountains some two or three years ago. They made some excitement, a few mills were erected, and three villages started - Owensville, San Carlos, and Bend City. The last two are rivals, being only 2½ miles apart; the first is 50 miles up the river.
"We camped on the river near Bend City and went into town for fresh meat and to get the horses shod. It is a miserable hole, of perhaps twenty or twenty-five adobe houses, built on the sand in the midst of the sagebrush, but there is a large city laid out - on paper. It was intensely hot, there appeared to be nothing done, times dull, and everybody talking about the probable uprising of the Indians - some thought that mischief was brewing, others not."
From: Up and Down California in 1860-1864: The Journal of William H. Brewer

We were unable to locate a bear flag plaque for this landmark. Here's a list of other California Historical Landmarks which had no bear flag plaque when we visited them.