California Historical Landmark 209
Bend City
Mazourka Canyon Road
East of Independence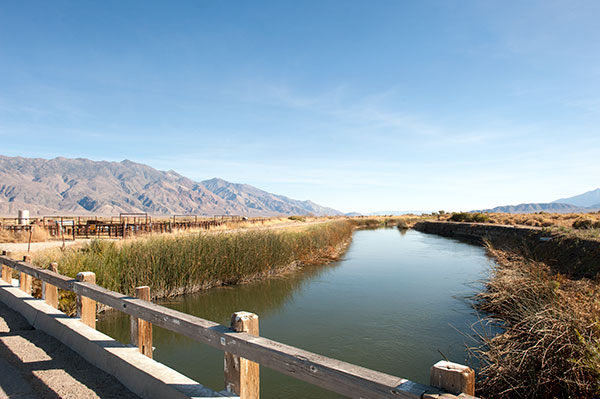 The Owens River and Inyo Mountains Near the Site of Bend City.
2 November 2012
(Click Photo to Zoom)
Bend City
Bend City, a population center in the middle 1860s, was designated as the seat of Coso County, but the county was never formed. It was here that the first county bridge across Owens River was constructed. The 1872 earthquake changed the course of Owens River, so the site of Bend City was near an empty ravine instead of on a river bank.
Citation from California Office of Historic Preservation

William H. Brewer, working for the State Geologist Josiah Whitney, visited Bend City on 28 July 1864. He wrote in his journal:
"The Inyo Mountains skirt this valley on the east. They, too, are desert. A little rain falls on them in winter, but too little to support much vegetation or to give birth to springs or streams.
"They look utterly bare and desolate, but they are covered with scattered trees of the little scrubby nut pine, Pinus fremontiana [actually Pinus monophylla, or the single leaf piñon pine], and some other desert shrubs, but no timber, nor meadows, nor green herbage. There are a few springs, however.
"These mountains were the strongholds of the Indians during hostilities a year ago. They are destitute of feed, and the water is so scarce and in such obscure places that the soldiers could not penetrate them without suffering for want of water. Camp Independence was located in the valley, and for a year fighting went on, when at last the Indians were conquered - more were starved out than killed. they came in, made treaties, and became peaceful. One chief, however, Joaquin Jim, never gave up. He retreated into the Sierra with a small band, but he has attempted no hostilities since last fall. These Indians are in a region where we are now, and it was against them that we took the escort of soldiers as a guard. There are a number yet, however, in the valley, living as they can - a miserable, cruel, and treacherous set.
Mines of silver and gold were discovered in the Inyo Mountains some two or three years ago. They made some excitement, a few mills were erected, and three villages started - Owensville, San Carlos, and Bend City. The last two are rivals, being only 2½ miles apart; the first is 50 miles up the river.
We camped on the river near Bend City and went into town for fresh meat and to get the horses shod. It is a miserable hole, of perhaps twenty or twenty-five adobe houses, built on the sand in the midst of the sagebrush, but there is a large city laid out - on paper. It was intensely hot, there appeared to be nothing done, times dull, and everybody talking about the probable uprising of the Indians - some though that mischief was brewing, others not."
From: Up and Down California in 1860-1864: The Journal of William H. Brewer

Some Missing California Plaques
When we visited the following sites, we were unable to locate a California commemorative plaque.
At some sites, it appeared that a California plaque had never been erected. At other sites, there was a base, but the plaque itself was missing. Some sites without California plaques had other historic markers, but they did not note that the site is a California Historical Landmark.