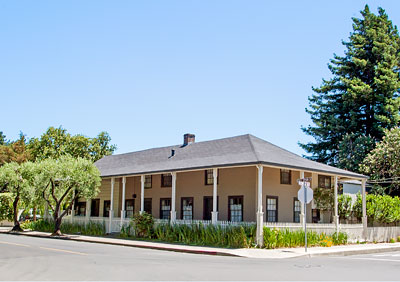 10 June 2005
Ray Adobe
205 East Spain Street
Sonoma
Built 1846
Built by 1846 Missouri emigrants John and Harriet Ray in 1847. After his success in the Rose Bar Gold Fields, the large adobe portion was added in 1849 by Indian labor to the wooden house on the east end. It was leased as headquarters for officers of the U.S. Army until 1852. Successive home to and restoration by the families Adler, Black, Heine, Shields, Whitelow and Forrest.
Source: Historic marker on the building.

The Ray Adobe contributes to the Sonoma Plaza Historic District which was designated a National Historic Landmark in 1960.

Historic Adobe Buildings