California Historical Landmark 654-1
Chevra Kaddisha (Home of Peace Cemetery)
3230 J Street
Sacramento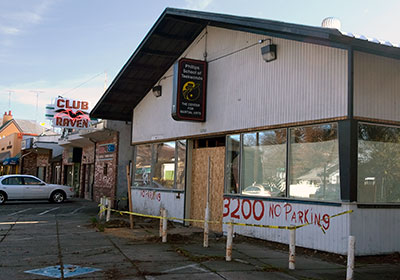 3 January 2009
(Click Photo to Zoom)
Chevra Kaddisha
(Home of Peace Cemetery)
This site was the first Jewish cemetery in California. On November 12, 1850, R. J. Watson gave a Deed of Trust to Louis Schaul: 'Lot number four in the square between thirty-second and thirty-third and J and K Streets . . . for the Sacramento City Hebrew Association for a burial ground.'
Citation from California Office of Historic Preservation

The cemetery is gone, replaced by a strip mall. We found no memorial plaque.

Some Missing California Plaques
When we visited the following sites, we were unable to locate a California commemorative plaque.
At some sites, it appeared that a California plaque had never been erected. At other sites, there was a base, but the plaque itself was missing. Some sites without California plaques had other historic markers, but they did not note that the site is a California Historical Landmark.