California Historical Landmark 608
Orleans Hotel Site
1018 2nd Street
Sacramento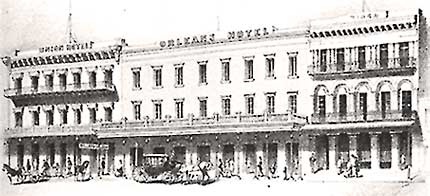 1857 Lithograph
Historic American Buildings Survey
(Click Image to Zoom)
Orleans Hotel Site
This hotel, erected in 1852, served as a depot for stage companies and others.
Citation from California Office of Historic Preservation

The Orleans Hotel stood between the Union Hotel and the
Adams and Company Building
. The latter two buildings survived, but the Orleans Hotel did not.

Historic structures in Old Sacramento:

Some Missing California Plaques
When we visited the following sites, we were unable to locate a California commemorative plaque.
At some sites, it appeared that a California plaque had never been erected. At other sites, there was a base, but the plaque itself was missing. Some sites without California plaques had other historic markers, but they did not note that the site is a California Historical Landmark.