California Historical Landmark 328
Site of Long Wharf AKA Central Wharf
Commercial Street From Leidesdorff East
Financial District
Built 1848
Long Wharf Site
In the spring of 1848, the old Central or Long Wharf was built 'from the bank in the middle of the block between Sacramento and Clay Streets, where Leidesdorff Street now is, 800 feet into the Bay.' After 1850 it was extended 2,000 feet and the Pacific mail steamers and other large vessels anchored there. Central or Long Wharf is now Commercial Street.
Citation from California Office of Historic Preservation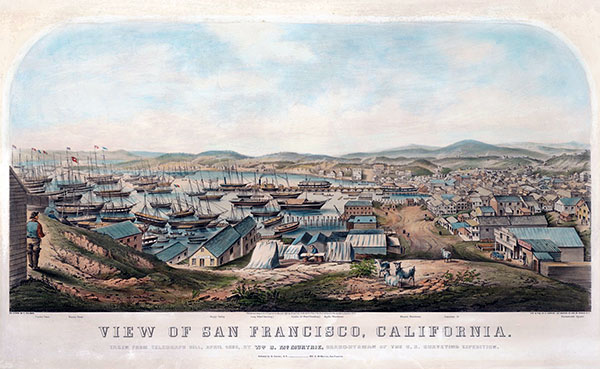 View of San Francisco from Telegraph Hill April 1850
Hand-colored lithograph on paper by William B. McMurtrie,
draughtsman of the U. S. Surveying Expedition
Miners and goats overlooking structures and tents above the harbor, including a key to nine locations:
Clarkes Point, Rincon Point, Happy Valley, Long Wharf, Pacific Street Wharf, Apollo Warehouse, Niantic Warehouse, Sansome Street, Portsmouth Square.
[Courtesy Stanford Digital Repository]

We were unable to locate a commemorative marker for Long Wharf.
Some Missing California Plaques
When we visited the following sites, we were unable to locate a California commemorative plaque.
At some sites, it appeared that a California plaque had never been erected. At other sites, there was a base, but the plaque itself was missing. Some sites without California plaques had other historic markers, but they did not note that the site is a California Historical Landmark.