California Historical Landmark 686
Site of Kelsey House
500 Feet Northwest of Intersection of State Highway 29 and Diamond Mountain Road
1.1 Miles South of Calistoga
Built Around 1841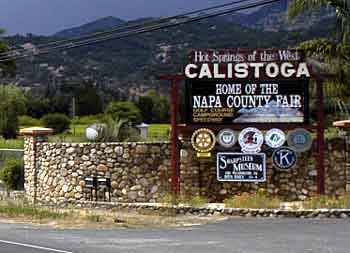 (Click Photo to Zoom)
Site of Kelsey House
Nancy Kelsey arrived in California in 1841 with the Bidwell-Bartleson party and settled with her family south of present-day Calistoga. Now the hearthstone is all that can be seen of the house. The property is owned by the Rockstrohs.
Citation from California Office of Historic Preservation

Under a lowering sky, we tramped through the summer-dried grass near the intersection of State Highway 29 and Diamond Mountain Road but found no surviving trace of the Kelsey House or of the plaque itself.

Some Missing California Plaques
When we visited the following sites, we were unable to locate a California commemorative plaque.
At some sites, it appeared that a California plaque had never been erected. At other sites, there was a base, but the plaque itself was missing. Some sites without California plaques had other historic markers, but they did not note that the site is a California Historical Landmark.