California Historical Landmark 470
Plymouth Trading Post
Main Street Between Mill and Mineral Streets
Plymouth
Built 1857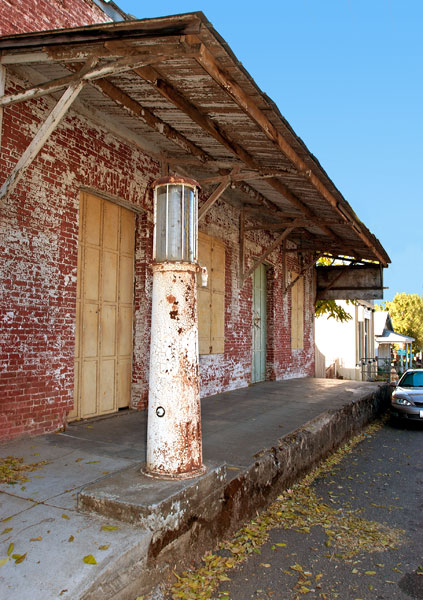 12 October 2006
(Click Photo to Zoom)
Plymouth Trading Post
This building, constructed entirely of brick, was built by Joe Williams in 1857. In 1873 the many small mines of the area were combined to become Plymouth Consolidated, and this building became the new company's office and commissary.
Citation from California Office of Historic Preservation

Gold Rush Stonemasons
Mining camps started as clusters of tents and other makeshift shelters. If the mine was productive, wooden buildings were erected and a town was born.
Conflagrations were a recurring curse. Often entire town were repeatedly destroyed by fire. Stonemasons, especially Italian immigrants from Liguria, began building "fire proof" banks and stores of stone or brick with iron doors and iron window shutters to protect the contents from fire.
Many of these stone buildings survive. Some of them, such as the Butte Store, are the sole reminders of a lost mining town.
Some of these buildings are:

Some Missing California Plaques
When we visited the following sites, we were unable to locate a California commemorative plaque.
At some sites, it appeared that a California plaque had never been erected. At other sites, there was a base, but the plaque itself was missing. Some sites without California plaques had other historic markers, but they did not note that the site is a California Historical Landmark.