California Historical Landmark 321
Smartsville
State Route 20
Smartsville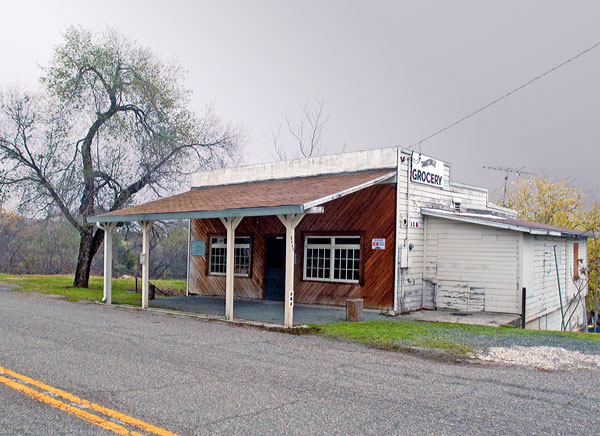 Smartsville Grocery on State Route 20
We could not locate a commemorative plaque for the town of Smartsville.
14 December 2005
(Click Photo to Zoom)
Smartsville
The first building at Smartsville (the post office is called Smartville) was built in the spring of 1856 by a Mr. Smart. The Church of the Immaculate Conception (organized in 1852 in Rose's Bar) was built in 1861, and in 1863 the Union Church was erected. One of the prominent features of the landscape of the town today is its churches.
Citation from California Office of Historic Preservation

Smartsville in 1879
The following description of Smartsville in 1879 is from The History of Yuba County California by Thompson & West.
James Smart built a hotel at this place in the spring of 1856. This was the first building except a few cabins, here and there, occupied by the miners.
The only large settlements at that time were Timbuctoo and Sucker Flat.
L.B. Clark bought the place in 1857, and kept a store. The hotel is now owned by B. Smith. A saloon was started in 1856, also a small store was kept by a Mr. Shearer.
As the mines began to develop the place gradually to settle up, until at present, it is a thriving mining town. The old cemetery on the hill, near the Empire Ranch, was first used in 1852, for the burial of a man from Oregon. This was followed by the entombing of several men who died with cholera.
About three years ago a mine caved in at Sucker Flat, killing seven men, who were all buried in one day. A little further up the road is the Fraternal Cemetery, laid out by the Masons, Odd Fellows, and Good Templars, in 1875. Until a few years ago the remains of Catholics were taken to Marysville to be interred in the Catholic cemetery there; but a fine burial ground has since been laid out, just across the ravine and south of the town.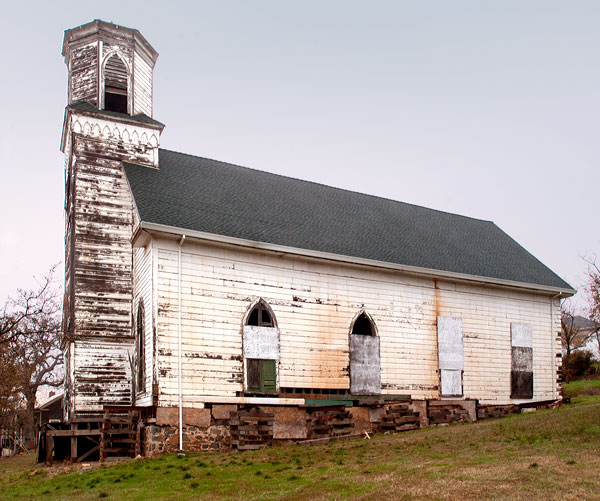 Church of the Immaculate Conception in Smartsville
14 December 2005
(Click Photo to Zoom)
Church of the Immaculate Conception
State of California Point of Historical Interest: Yub-12
Erected 1850, the original structure was destroyed by fire in 1870, and rebuilt in 1871 by the citizens of Smartsville on the original foundation. At one time this church served 800 parishioners, mostly Irish Catholics employed at the Smartsville mines which were among the richest mines in the state. Continuously operated as a Catholic Church until the 1970's, the building and grounds were deeded in 1998 to the Smartsville Church Restoration Fund Inc.

Some Missing California Plaques
When we visited the following sites, we were unable to locate a California commemorative plaque.
At some sites, it appeared that a California plaque had never been erected. At other sites, there was a base, but the plaque itself was missing. Some sites without California plaques had other historic markers, but they did not note that the site is a California Historical Landmark.