California Historical Landmark 813
Montgomery Hill
Intersection of San Felipe Road and Yerba Buena Road
San Jose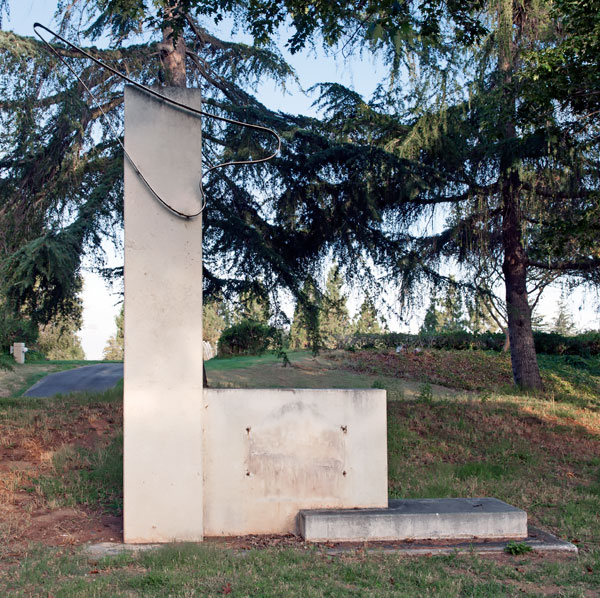 The plaque used to be located on Yerba Buena Road at the entrance to Evergreen College.
When we photographed this location on 2 October 2011, the plaque was missing.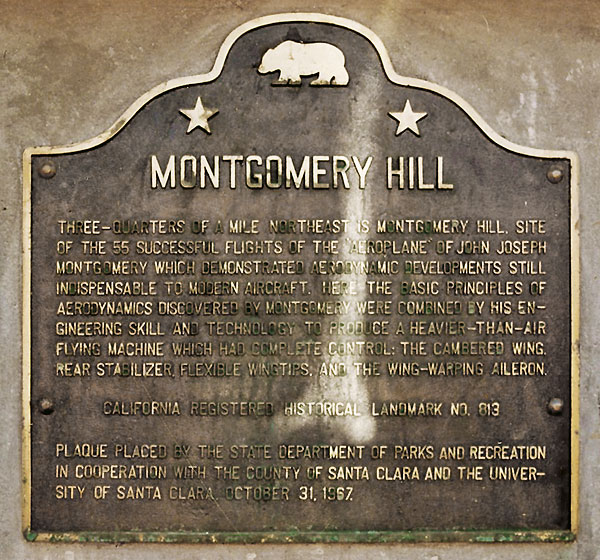 This unattributed photograph was taken in the 1980s.
(Click Photos to Zoom)
Montgomery Hill
Three-quarters of a mile northeast is Montgomery Hill, site of the 55 successful flights of the 'aeroplane' of John Joseph Montgomery which demonstrated aerodynamic developments still indispensable to modern aircraft. Here the basic principles of aerodynamics discovered by Montgomery were combined by his engineering skill and technology to produce a heavier-than-air flying machine which had complete control: the cambered wing, rear stabilizer, flexible wingtips, and wing-warping aileron.
California Registered Historical Landmark No. 813
Plaque placed by the State Department of Parks and Recreation in cooperation with the County of Santa Clara and the University of Santa Clara, October 31, 1967.

The old Montgomery Hill commemorative plaque on Yerba Buena Road went missing. A viewer of this web page sent us a photograph taken in the 1980s.
A new plaque has been installed at the intersection of San Felipe Road and Yerba Buena Road. We have not yet photographed the new plaque.

Some Missing California Plaques
When we visited the following sites, we were unable to locate a California commemorative plaque.
At some sites, it appeared that a California plaque had never been erected. At other sites, there was a base, but the plaque itself was missing. Some sites without California plaques had other historic markers, but they did not note that the site is a California Historical Landmark.