California Landmark 131
Whiskeytown
Highway 299 and Whiskey Creek Road
Whiskeytown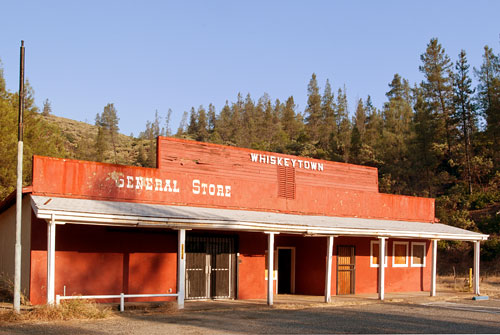 24 September 2006
(Click Photos to Zoom)
We were unable to locate a California Bear Flag marker for Whiskeytown. The California Office of Preservation offers the following citation at
ohp.parks.ca.gov
.
Whiskeytown
Settled by gold miners in 1849, the town was first called Whiskey Creek for the stream on which it was located, but later the name was changed to Whiskeytown. A barrel of whiskey lost off a pack mule christened the stream with the popular drink of that day. The town is inundated by Whiskeytown Reservoir.


Some Missing California Plaques
When we visited the following sites, we were unable to locate a California commemorative plaque.
At some sites, it appeared that a California plaque had never been erected. At other sites, there was a base, but the plaque itself was missing. Some sites without California plaques had other historic markers, but they did not note that the site is a California Historical Landmark.