California Historical Landmark 122
Montezuma
9088 Montezuma Road (State Route 49)
Tuttletown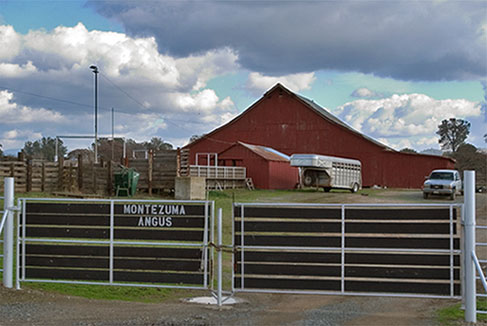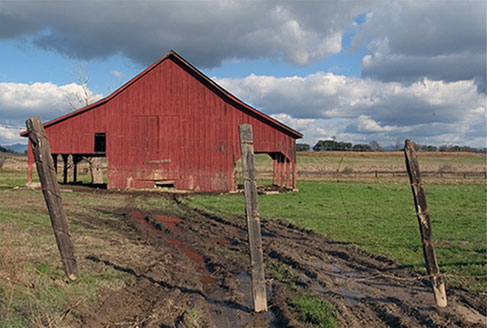 17 December 2006
Barns On Highway 49 Near Site of Montezuma City
(Click Photos to Zoom)
Montezuma
First record of Montezuma was June 1850 when partners Solomon Miller and Peter K. Aurand, proprietors of the 'Montezuma Tent,' were attacked and Aurand killed by a group of Mexicans during the foreign miners tax excitement of that period. Due to the lack of water, little mining occurred here until 1852 when a ditch and flume were completed bringing water for placer mining. Two types of mining were carried on, placer operations on the flats and tunnels extending under Table Mountain. The gravel produced 3-1/2 C. per pan in the mid 50s. The yield was from $5 to $10 per day. One placer nugget found in 1853 weighed 18 lbs. 8 oz. By late 1852 the population was about 800. At its zenith Montezuma City had four saloons, two hotels, Adams Express Co., post office, church, some homes, and many tents and cabins. The town was nearly destroyed by an incendiary fire which started in Clarks Hotel on June 29, 1866.
Citation from California Office of Historic Preservation

We found neither a commemorative plaque nor any trace of Montezuma City; however, the ranches and countryside are lovely here.

Some Missing California Plaques
When we visited the following sites, we were unable to locate a California commemorative plaque.
At some sites, it appeared that a California plaque had never been erected. At other sites, there was a base, but the plaque itself was missing. Some sites without California plaques had other historic markers, but they did not note that the site is a California Historical Landmark.