California Historical Landmark 105
Royal Presidio Chapel of San Carlos Borroméo
550 Church Street
Monterey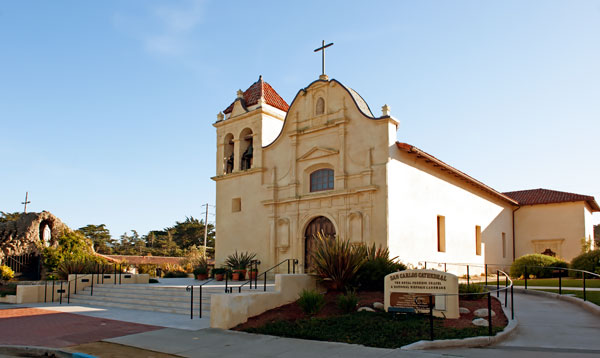 22 November 2012
(Click Photo to Zoom)
Royal Presidio Chapel of San Carlos Borroméo
Established as a mission by Father Serra, June 3, 1770, this became the royal Presidio Chapel when the mission was moved to Carmel. The chapel was rebuilt with stone in 1791 and became the parish church in 1835, due to secularization. In a dilapidated condition in 1850, it was reconstructed and altered with money donated by Governor Pacheco in 1858.
Citation from California Office of Historic Preservation

The Royal Presidio Chapel, NRHP listing #66000216, is a National Historic Landmark. We were unable to locate a California historical marker.

Some Missing California Plaques
When we visited the following sites, we were unable to locate a California commemorative plaque.
At some sites, it appeared that a California plaque had never been erected. At other sites, there was a base, but the plaque itself was missing. Some sites without California plaques had other historic markers, but they did not note that the site is a California Historical Landmark.