California Historical Landmark 437
Sailing Launch Comet
19091 South Manthey Road
Lathrop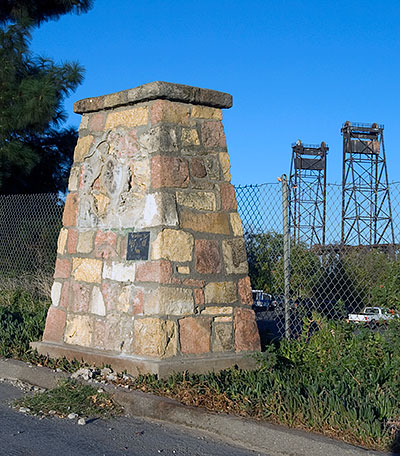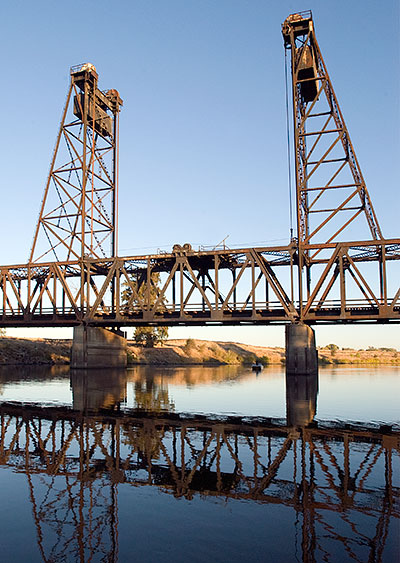 The first ferry carried passengers across the San Joaquin
River near the current railroad bridge. Subsequently,
the Transcontinental Railroad crossed here.
Both Photos 7 October 2007
(Click Photos to Zoom)
Sailing Launch Comet
First known sail launch to ascend San Joaquin River from San Francisco landed here autumn, 1846. It carried 20 Mormon pioneers who founded New Hope Agricultural Project on Stanislaus. A yoke of oxen and span of mules were driven from Marsh's Landing (Antioch) by two men who followed a crude map drawn by Merritt the trapper. Two years later Doak and Bonsell operated here the first ferry on San Joaquin River.
Citation from California Office of Historic Preservation

This plaque, along with a plaque for the
Transcontinental Railroad
, was in place as recently as 25 October 2006 when it was photographed for
Waymarking.com
.

Some Missing California Plaques
When we visited the following sites, we were unable to locate a California commemorative plaque.
At some sites, it appeared that a California plaque had never been erected. At other sites, there was a base, but the plaque itself was missing. Some sites without California plaques had other historic markers, but they did not note that the site is a California Historical Landmark.