California Historical Landmark 91
Telegraph Hill
1 Telegraph Hill Boulevard
1853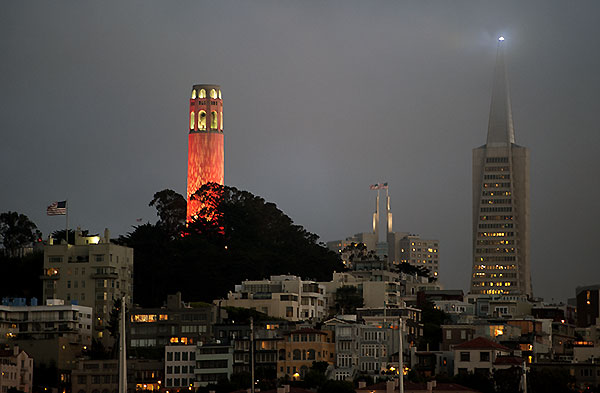 Coit Tower, Illuminated for the Americas Cup, on the Summit of Telegraph Hill
13 September 2013
(Click Photom to Zoom)
Telegraph Hill
A signal station was erected on Telegraph Hill in 1849 from which to observe the incoming vessels, a tall pole with movable arms was used to signal to the people in the town below whether sailing vessels or the sidewheel vessels of the Pacific mail were passing through the Golden Gate. In September 1853, the first telegraph in California, which extended eight miles to Point Lobos, was stationed here, giving the hill its name.
Citation from California Office of Historic Preservation

We were unable to locate a commemorative marker for Telegraph Hill.
Some Missing California Plaques
When we visited the following sites, we were unable to locate a California commemorative plaque.
At some sites, it appeared that a California plaque had never been erected. At other sites, there was a base, but the plaque itself was missing. Some sites without California plaques had other historic markers, but they did not note that the site is a California Historical Landmark.