California Landmark 780-7
Transcontinental Railroad
19091 South Manthey Road
Lathrop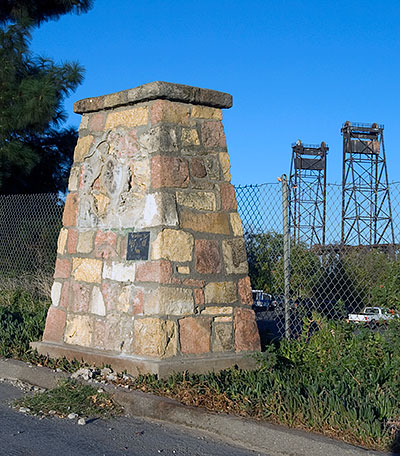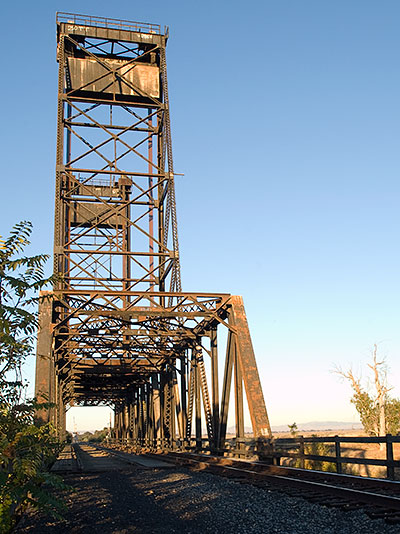 The railroad bridge over the San Joaquin River
dates from 1896 and is still in use.
Both Photos 7 October 2007
(Click Photos to Zoom)
Transcontinental Railroad
The construction of the San Joaquin River bridge completed the last link of the transcontinental railroad. Building has proceeded simultaneously from the bay area and Sacramento to meet at the San Joaquin River. The first train crossed the bridge on September 8, 1869.
Citation from California Office of Historic Preservation

Until recently, this stone base contained two plaques. At the top was the plaque for
California Historical Landmark #437: Sailing Launch Comet
, and below it was the plaque for the Transcontinental Railroad. The plaques were in place as recently as 6 August 2006 when they were photographed for
Waymarking.com
.
Ten miles from here, the plaque for California Historical Landmark #777: Site of San Joaquin City is also missing.

Some Missing California Plaques
When we visited the following sites, we were unable to locate a California commemorative plaque.
At some sites, it appeared that a California plaque had never been erected. At other sites, there was a base, but the plaque itself was missing. Some sites without California plaques had other historic markers, but they did not note that the site is a California Historical Landmark.