California Historical Landmark 271
Pioneer Cemetery
SR 12 Near Toll Bridge Road
San Andreas

11 October 2006
(Click Photo to Zoom)
Pioneer Cemetery
This pioneer cemetery was said to have been established in 1851. Most of the graves are unmarked - stones appeared over only three of them in 1936. This cemetery is located almost opposite where the town of North Branch originally stood, before the site was mined for gold.
Citation from California Office of Historic Preservation

We were unable to locate a bear flag plaque for this landmark. Here's a list of other California Historical Landmarks which had no bear flag plaque when we visited them.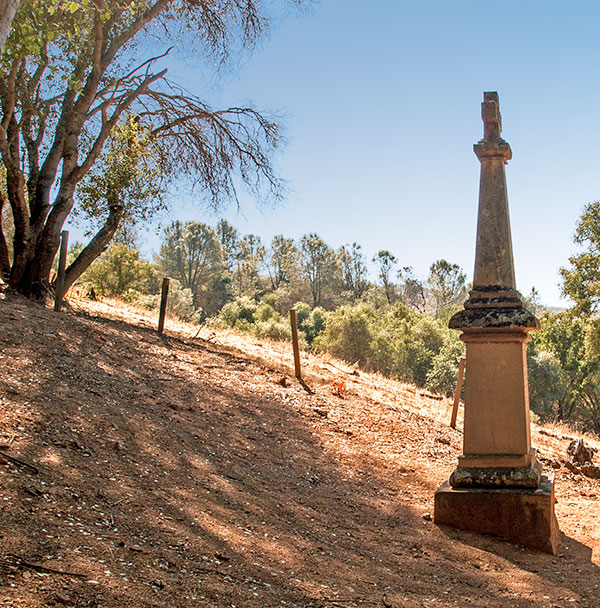 11 October 2006
(Click Photo to Zoom)
IN
Memory of
JAMES SHERAN
who came to his
DEATH
by the fall of a bank
south fork 9th day of dec
1854
aged 27 years
NATIVE of IRELAND
Co. Mayo
May his soul rest in Pace
Amen
Car.by.P.Mullaney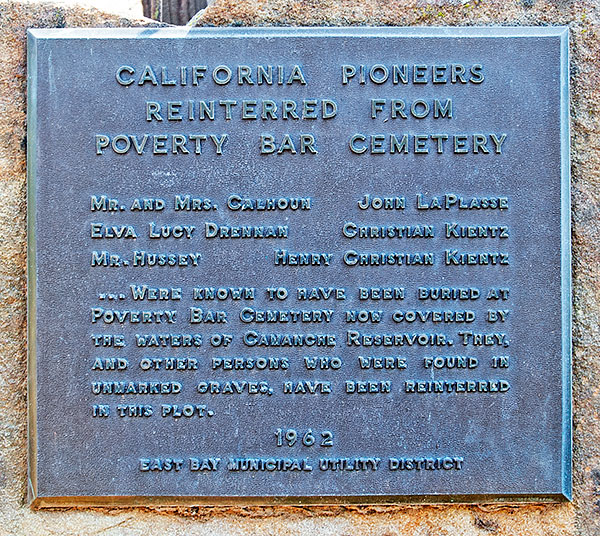 11 October 2006
(Click Photo to Zoom)
California Pioneers
Reinterred from Poverty Bar Cemetery
Mr. and Mrs. Calhoun
John LaPlasse
Elva Lucy Drennan
Christine Kientz
Mr. Hussey
Henry Christian Kientz
...Were known to have been buried at Poverty Bar Cemetery now covered by the waters of Camanche Reservoir. They and other persons who were found in unmarked graves, have been reinterred in this plot.
1962
East Bay Municipal Utility District