California Historical Landmark 254
Camanche
Monument RV Park
Camanche Reservoir South Shore Recreation Area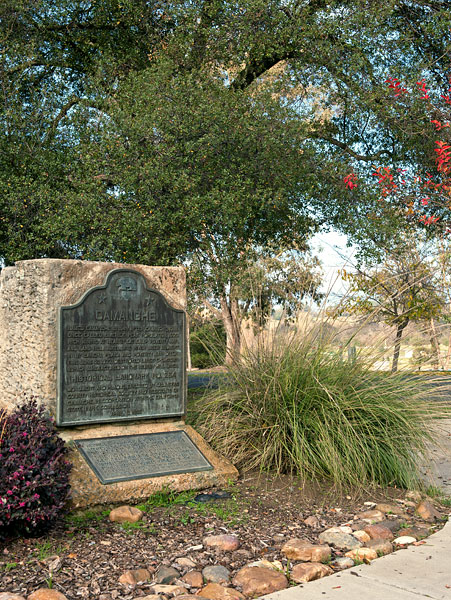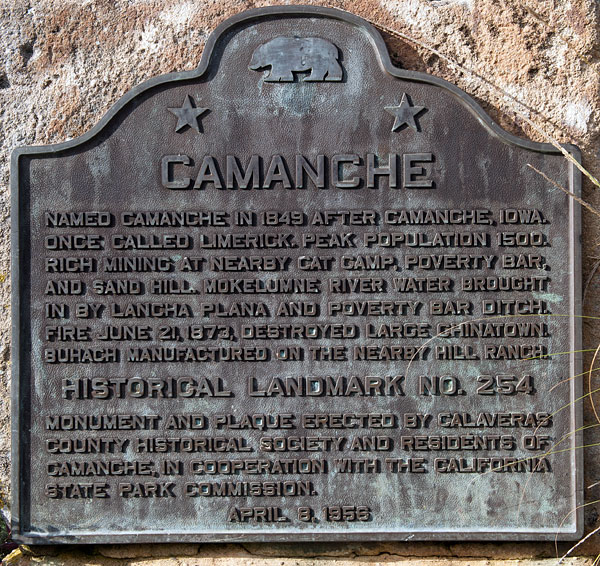 Camanche
Named Camanche in 1849 after Camanche, Iowa. Once called Limerick. Peak population 1500. Rich mining at nearby Cat Camp, Poverty Bar, and Sand Hill. Mokelumne River water brought in by Lancha Plana and Poverty Bar ditch. Fire June 21, 1873, destroyed large Chinatown. Buhach manufactured on the nearby Hill Ranch.
Historical Landmark No. 254
Monument and plaque erected by Calaveras County Historical Society and residents of Camanche, in cooperation with the California State Park Commission
April 8, 1956.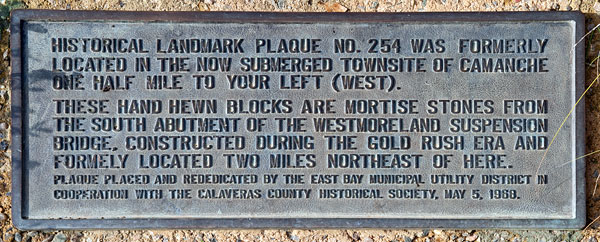 7 December 2012
(Click Photos to Zoom)
Historical landmark plaque No. 254 was formerly located at the now submerged townsite of Camanche one half mile to your left (West).
These hand hewn blocks are mortise stones from the south abutment of the Westmoreland suspension bridge, constructed during the Gold Rush era and formerly located two miles northeast of here.
Plaque placed and rededicated by the East Bay Municipal Utility District in cooperation with the Calavaeras County Historical Society, May 5, 1968.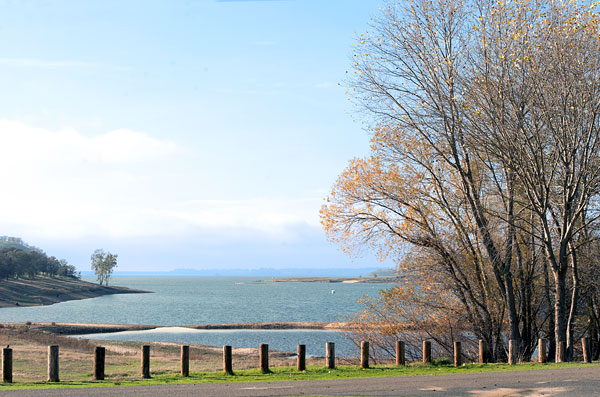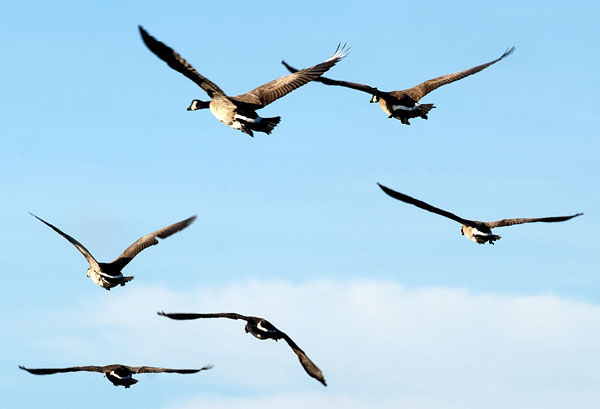 Camanche Reservoir
7 December 2012
(Click Photos to Zoom)

Underwater in California
The damming of rivers and creeks inundated many 19th century cemeteries, buildings and entire towns.
Bagby (Merced River)
Bidwell's Bar (Feather River)
Camanche (Mokelumne River)
Condemned Bar (American River)
Jacksonville (Tuolumne River)
Middle Bar (Pardee River)
Mormon Island, (American River)
Negro Hill (American River)
Poverty Bar (Mokelumne River)
Reynold's House (Silver Creek)
Salmon Falls (American River)
Searsville (Corte Madera Creek)
Whiskeytown (Clear Creek)
The town of Volcano in Amador County had a close call in 1934 but was granted a reprieve and survives today.