California Historical Landmark 615
Fort Bragg
343 North Main Street
Fort Bragg
Period: 1857-1864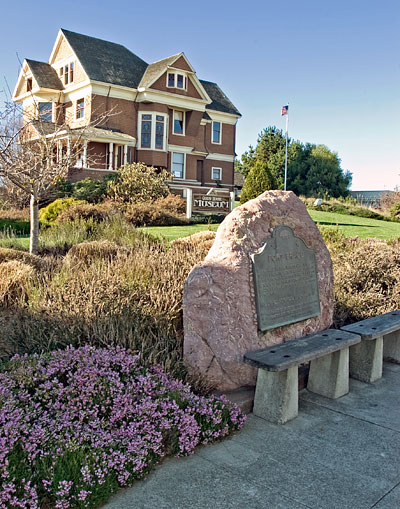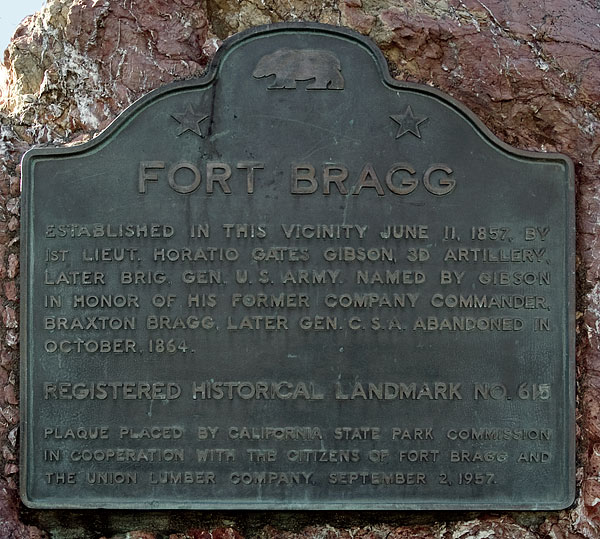 13 November 2005
(Click Photos to Zoom)
Fort Bragg
Established in this vicinity June 11, 1857 by 1st Lieut. Horatio Gates Gibson, 3d Artillery, later Brig. Gen. U.S. Army. Named by Gibson in honor of his former company commander, Braxton Bragg, later Gen. C.S.A. Abandoned in October 1864.
Registered Historical Landmark No. 615
Plaque placed by California State Park Commission in cooperation with the citizens of Fort Bragg and the Union Lumber Company. September 2, 1957.

The photograph shows the 1892 redwood Victorian built on the site of Fort Bragg as a home for Charles Russell Johnson who founded the Union Lumber Company and served as Fort Bragg's first mayor.
In 1912, the building became a guest house for Union Lumber, and it is now the Guest House Museum which documents the 150 year history of the lumber and fishing industries on the Mendocino Coast.

Fort Bragg, California is a small lumbering town of 6,300 situated 120 air miles north of San Francisco. It sits in the heart of what is known as the Mendocino Coast, and borders the ocean on the West and a small range of mountains to the east. Its northern boundary is in the general area of Pudding Creek, with its southern boundary being the Noyo River.
The City's name conies from the original Army Fort established here in 1857, which was named in honor of Captain Braxton Bragg, a Union Army Officer of Mexican War fame.
The fort was closed in 1864, but in 1884 Charles Russell Johnson and Calvin Cooper Stewart built a redwood mill at the site of the old Army base. Originally called the Fort Bragg Redwood Company, it's name was later changed to the Union Lumber Company, and it became one of the three largest redwood mills in the world.
The lumber mill has been in continuous use since 1884 and is today owned by Georgia Pacific Company.
The city was incorporated in 1889, C. R. Johnson being its first mayor.
Source: NRHP nomination fot the Olinsky Building.

Some Company Towns