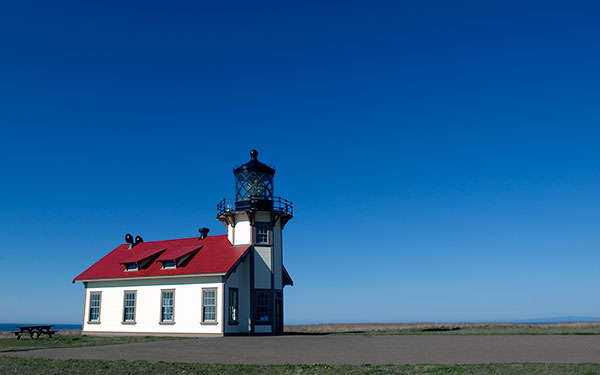 Point Cabrillo Light Station
13 November 2005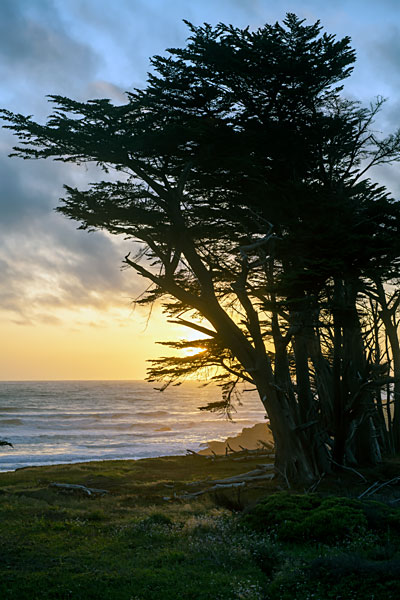 Cypress overlooking the Pacific Ocean
On a bluff near the mouth of Pudding Creek
1 May 2022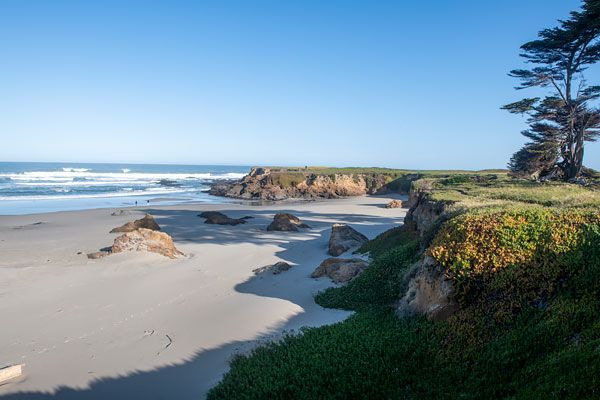 Beach and bluffs at the mouth of Pudding Creek
1 May 2022
(Click Photos To Enlarge)
Mendocino County was one of the original counties of California, created in 1850 at the time of statehood. Due to an initially low population, it did not have a separate government until 1859 and was under the administration of Sonoma County prior to that.
Mendocino County derives its name from Cape Mendocino, which was probably named in honor of either Antonio de Mendoza, Viceroy of New Spain from 1535–1542 (who sent the Juan Cabrillo Expedition to this coast in 1542), or Lorenzo Suárez de Mendoza, Viceroy from 1580 to 1583. Mendocino is the adjectival form of the family name of Mendoza.
Mendocino County is noted for its distinctive Pacific Ocean coastline, redwood forests, wine production, microbreweries, and liberal views about the use of cannabis and support for its legalization. It is estimated that roughly one-third of the economy is based on the cultivation of marijuana.
As of the 2010 census, the population was 87,841. The county seat is Ukiah.
Adapted from Wikipedia.
| Name | Address | City | Year | Authority | ID | Sort Address | Sort Name |
| --- | --- | --- | --- | --- | --- | --- | --- |
| Albion River Bridge | Coast Highway | Albion | 1944 | National | 2010001383 | Route 001 | Albion River Bridge |
| Arena Cove Coast Guard Captain's House | Port Road | Point Arena | 1902 | POI | | Port | Arena Cove Coast Guard Captain's House |
| Arena Cove Historic District | Arena Cove | Point Arena | 1875 | National | 1990001363 | Arena Cove | Arena Cove Historic District |
| Arena Cove Wharfmaster's House | 785 Port Road | Point Arena | 1975 | POI | | Port 785 | Arena Cove Wharfmaster's House |
| Arena Theater | 214 Main Street | Point Arena | 1928 | POI | | Main 0214 | Arena Theater |
| Babcock House | 96 South Humboldt Street | Willits | | National | 2004000620 | Humboldt S 0096 | Babcock House |
| Buckridge Ranch House | Garcia River Road East of Point Arena | Point Arena | 1869 | National | 1990001359 | Garcia River near Buckridge Road | Buckridge Ranch House |
| Con Creek School | 12340 Highway 128 | Boonville | | National | 1979000498 | Highway 128 12340 | Con Creek School |
| Eel River Bridge 10-37 | Route 271 Over South Fork of Eel River | Cooks Valley | 1917 | POI | | Route 271 | Eel River Bridge 10-37 |
| Elk | Coast Highway | Elk | | POI | | Highway 001 | Elk |
| Fifteen Japanese | Port Road at Point Arena Wharf | Point Arena | 1913 | POI | | Port | Fifteen Japanese |
| First Baptist Church | 127 East Pine Street | Fort Bragg | 1889 | POI | | Pine E 0127 | First Baptist Church |
| Ford House | 735 Main Street | Mendocino | 1854 | National | 2010000394 | Main 0735 | Ford House |
| Fort Bragg | 343 North Main Street | Fort Bragg | 1857 | California | 615 | Main 00321 | Fort Bragg |
| Fort Bragg Masonic Hall | 428 North Main Street | Fort Bragg | | POI | | Main N 0428 | Fort Bragg Masonic Hall |
| Fort Bragg Redwood Tree | 343 North Main Street | Fort Bragg | | POI | | Main N 0343 | Fort Bragg Redwood Tree |
| Fort Building | 430 North Franklin Street | Fort Bragg | 1857 | POI | | Franklin 0430 | Fort Building |
| Frog Woman Rock | Highway 101 | South of Hopland | | California | 549 | Highway 101 05.1 | Frog Woman Rock |
| Getchell House | 36101 Coast Highway | Anchor Bay | | National | 1980000819 | Highway 001 36101 | Getchell House |
| Gillmore House | 40 Mill Street | Point Arena | 1870 | National | 1990001355 | Mill 40 | Gillmore House |
| Groshon House | 50 Mill Street | Point Arena | 1900 | National | 1990001356 | Mill 50 | Groshon House |
| Gualala Hotel | 39301 Coast Highway | Gualala | 1903 | POI | | Highway 001 39301 | Gualala Hotel |
| Guest House | 343 North Main Street | Fort Bragg | | POI | | Main N 0343 | Guest House |
| Held-Poage House | 603 West Perkins Street | Ukiah | | National | 1987002292 | Perkins 603 | Held-Poage House |
| Hofman House | 308 South School Street | Ukiah | | National | 1993001022 | School 308 | Hofman House |
| Hoyt-Scott House | 10 Riverside Drive | Point Arena | 1870 | National | 1990001354 | Riverside Drive 10 | Hoyt-Scott House |
| Italian Hotel | 105 Main Street | Point Arena | 1900 | National | 1990001361 | Main 00105 | Italian Hotel |
| Iverson House | 40 Iverson Avenue | Point Arena | 1875 | National | 1990001353 | Iverson 40 | Iverson House |
| Ketchum House | 10 Scott Place | Point Arena | 1912 | National | 1990001358 | Scott 0010 | Ketchum House |
| Larsen Family House | 84 State Street | Willits | | National | 1995001153 | State 084 | Larsen Family House |
| Lovejoy Homestead | North of Branscomb on South Fork of Eel River | Branscomb | | National | 1978000719 | Branscomb | Lovejoy Homestead |
| MacCallum House | 45020 Albion Street | Mendocino | 1882 | POI | | Albion 45020 | MacCallum House |
| MacKerricher State Park | Coast Highway | MacKerricher State Park | | POI | | Highway 001 | MacKerricher State Park |
| Manchester Schoolhouse | 19750 Coast Highway | Manchester | 1907 | National | 1979000499 | Highway 001 19750 | Manchester Schoolhouse |
| Mendocino and Headlands Historic District | Bounded Roughly By the Pacific Ocean, Little Lake Street and Coast Highway | Mendocino | | National | 1971000165 | Highway 001 | Mendocino and Headlands Historic District |
| Mendocino Coast Botanical Gardens | 18220 North Coast Highway | Fort Bragg | | POI | | Highway 001 | Mendocino Coast Botanical Gardens |
| Mendocino Headlands State Park | Heeser Drive | Mendocino | | POI | | Heeser | Mendocino Headlands State Park |
| Mendocino Masonic Hall | 10500 Lansing Street | Mendocino | 1866 | POI | | Lansing 10500 | Mendocino Masonic Hall |
| Mendocino Presbyterian Church | 44831 Main Street | Mendocino | | California | 714 | Main 44831 | Mendocino Presbyterian Church |
| Mendocino Woodlands Recreational Demonstration Area | 39350 Little Lake Road | Mendocino | | National | 1997001262 | Little Lake 39350 | Mendocino Woodlands Recreational Demonstration Area |
| Milano Hotel | 38300 Coast Highway | Gualala | | National | 1978000720 | Highway 001 38300 | Milano Hotel |
| Morse House | 365 Main Street | Point Arena | 1870 | National | 1990001362 | Main 00365 | Morse House |
| Navarro-by-the-Sea | Navarro Beach Road | Navarro Beach | 1865 | National | 2009001089 | Navarro | Navarro-by-the-Sea |
| Olinsky Building | 401 North Main Street | Fort Bragg | 1920 | National | 1995000995 | Main 00401 | Olinsky Building |
| Palace Hotel | 272 North State Street | Ukiah | 1891 | National | 1979003458 | State 272 | Palace Hotel |
| Palmer House | 284 Main Street | Point Arena | 1875 | National | 1990001357 | Main 00284 | Palmer House |
| Parrish Family Cemetery | 18220 North Coast Highway | Fort Bragg | | POI | | Highway 001 | Parrish Family Cemetery |
| Point Arena High School | 200 Lake Street | Point Arena | 1936 | National | 1990001365 | Lake 200 | Point Arena High School |
| Point Arena IOOF | 183 Main Street | Point Arena | | POI | | Main 0183 | Point Arena IOOF |
| Point Arena Lighthouse | Lighthouse Road | Point Arena-Stornetta Public Lands | 1907 | California | 1035 | Lighthouse | Point Arena Lighthouse |
| Point Arena Lighthouse | Lighthouse Road | Point Arena-Stornetta Public Lands | 1907 | National | 1990002189 | Lighthouse | Point Arena Lighthouse |
| Point Arena Main Street Historic Commercial District | 165-265 Main Street | Point Arena | 1893 | National | 1990001364 | Main 00165 | Point Arena Main Street Historic Commercial District |
| Point Arena Rancheria Roundhouse | Rancheria Road Northeast of Point Arena | Point Arena | 1890 | National | 1990001360 | Rancheria Road | Point Arena Rancheria Roundhouse |
| Point Cabrillo Light Station | 45300 Lighthouse Road | Point Cabrillo | | National | 1991001092 | Lighthouse 45300 | Point Cabrillo Light Station |
| Pudding Creek Railroad Bridge | CA-1 | Fort Bragg | 1915 | POI | | Highway 001 | Pudding Creek Railroad Bridge |
| Round Valley | Highway 162 Inspiration Point At Milepost 23.7 | Five Miles South of Covelo | 1854 | California | 674 | Highway 162 | Round Valley |
| Round Valley Flour Mills | Main and Greely Streets | Covelo | 1880 | National | 1980000820 | Main | Round Valley Flour Mills |
| Russian Gulch Bridge | Point Cabrillo Road | Russian Gulch State Park | 1940 | POI | | Point Cabrillo | Russian Gulch Bridge |
| Saint Orres | 36601 Coast Highway | Gualala | | POI | | Highway 001 | Saint Orres |
| Saint Paul's Methodist Episcopal Church | 40 School Street | Point Arena | 1907 | National | 1990001366 | School 040 | Saint Paul's Methodist Episcopal Church |
| Seabiscuit's Stud Barn | Seabiscuit Drive | Ridgewood Ranch | | National | 2013001108 | Seabiscuit | Seabiscuit's Stud Barn |
| Shipwreck of the Brig Frolic | North Trail | Point Cabrillo | 1850 | National | 1991000565 | North Trail | Shipwreck of the Brig Frolic |
| Skunk Train | 100 West Laurel Street | Fort Bragg | | POI | | Laurel W 0100 | Skunk Train |
| Spotswood House | 11820 West Road | Potter Valley | | National | 2007000997 | West 11820 | Spotswood House |
| St. Francis Mission Church | 13370 Spring Street | Hopland | | National | 100004919 | Spring | St. Francis Mission Church |
| Stornetta North Trailhead | Lighthouse Road | Point Arena-Stornetta Public Lands | | POI | | Lighthouse | Stornetta North Trailhead |
| Sun House | 431 South Main Street | Ukiah | 1911 | California | 926 | Main 00431 | Sun House |
| Sun House | 431 South Main Street | Ukiah | 1911 | National | 1981000161 | Main 00431 | Sun House |
| Temple of Kwan Tai | 45160 Albion Street | Mendocino | | California | 927 | Albion 45160 | Temple of Kwan Tai |
| Ukiah Latitude Observatory | 432 Observatory Avenue | Ukiah | 1899 | National | 1991001936 | Observatory | Ukiah Latitude Observatory |
| Ukiah Main Post Office | 224 North Oak Street | Ukiah | | National | 2012000266 | Oak N 0224 | Ukiah Main Post Office |
| Ukiah Vichy Springs Resort | 2701 Vichy Springs Road | Ukiah | | California | 980 | Vichy Springs 2701 | Ukiah Vichy Springs Resort |
| Union Lumber Company Store | 305 North Main Street | Fort Bragg | 1912 | POI | | Main N 0305 | Union Lumber Company Store |
| Weller House | 524 Stewart Street | Fort Bragg | 1886 | National | 1976000499 | Stewart 524 | Weller House |
| Willits Carnegie Library | 85 East Commercial Street | Willits | | National | 1992001756 | East Commercial Street 85 | Willits Carnegie Library |
| Willits Depot | East Commercial Street | Willits | | National | 1999001262 | East Commercial Street | Willits Depot |