California Historical Landmark 436
Site of New Hope Mormon Agricultural Colony
430 West Main Street
Ripon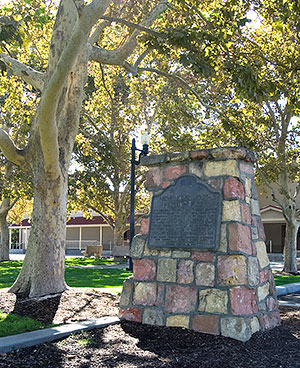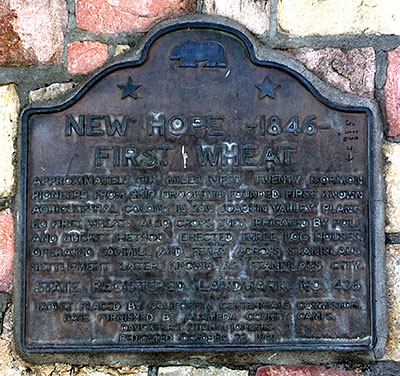 8 September 2012
(Click Photos to Zoom)
When we photographed the marker, it was located in Acacia Park
near the intersection of Fourth Street and South Locust Avenue.
We have not photographed the marker at its new location on West
Main Street in front of the Ripon Historical Society.
New Hope - 1846 - First Wheat
Approximately six miles west twenty Mormon pioneers from ship Brooklyn founded first known agricultural colony in San Joaquin Valley, planted first wheat. Also crops they irrigated by pole and bucket method. Erected three log houses. Operated sawmill and ferry across Stanislaus. Settlement later known as Stanislaus City.
State Registered Landmark No. 436
Tablet placed by the California Centennials Commission
Base furnished by Alameda County Camps
Daughters Utah Pioneers
Dedicated October 22, 1949

California was still Mexican territory when the Brooklyn set sail from New York harbor on Feb. 4, 1846, carrying 238 Mormon pioneers. Ten would die - and two would be born - on the epic six- month journey around Cape Horn.
Some Mormon historians believe that Northern California - not the basin of the Great Salt Lake - was to be the new Mormon mecca, the place where "the Saints" could practice their controversial religion and polygamous lifestyle in peace.
Following the murder of their founder and fears of further persecution, these "exiles from a wicked land" renounced their allegiance to the United States and secretly planned to meet up with an overland party organized from Nauvoo, Ill., by Mormon prophet Brigham Young.
Under the leadership of Sam Brannan, the East Coast contingent reached San Francisco Bay a year before Young reached Utah, but three weeks after the Stars and Stripes was hoisted over the central square of Yerba Buena during the Mexican-American War.
Sailing through the Golden Gate, Brannan squinted through the summer fog at his new home, reportedly muttering, "There's that damned flag again."
By Don Lattin, San Francisco Chronicle, 26 July 1996