Nevada Historical Marker 227
Lake Mansion
250 Court Street
Reno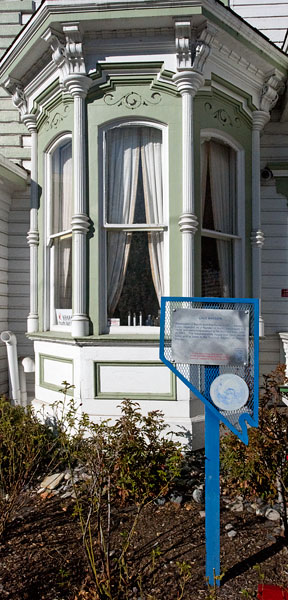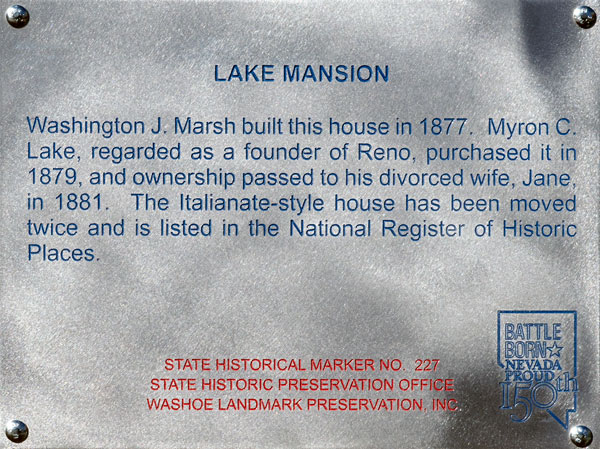 18 March 2016
(Click Photos to Zoom)
Lake Mansion
Washington J. Marsh built this house in 1877. Myron C. Lake, regarded as a founder of Reno, purchased it in 1879, and ownership passed to his divorced wife, Jan, in 1881. This Italianate-style house has been moved twice and is listed in the National Register of Historic Places.
State Historical Landmark No. 227
State Historic Preservation Office
Washoe Landmark Preservation Inc.

Buildings that Moved
It's not just that the people of the American West are restless, the buildings themselves sometimes pack up and move when - for one reason or another - the neighborhood no longer suits them or the neighbors no longer want them or opportunity waits down the road.
And when buildings remain in place, they are often searching for their identities.
Of the buildings and structures we have visited, the original Reno Arch holds the record for number of moves. It has been moved five times since it was built in 1926.
Jax Truckee Diner holds the distance title. The building moved from New Jersry to Pennsylvanis in 1948, then from Pennsylvania to Califonia in 1992.
Probably the most ambitious relocation occurred on July 4th 1904, when the Southern Pacific Railroad loaded most of the town of Wadsworth, Nevada, onto rail cars and transported the town thirty miles west to create a new town which became known as Sparks.