Nevada Historical Marker 68
Wadsworth
SR 427 Near Lincoln Highway
Wadsworth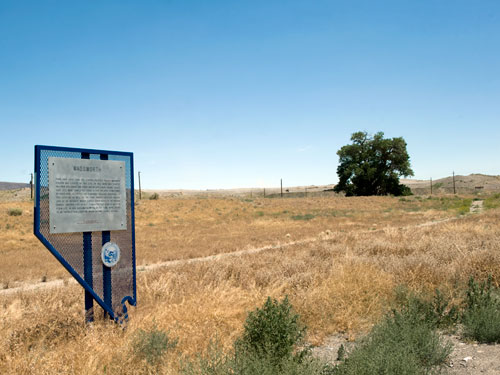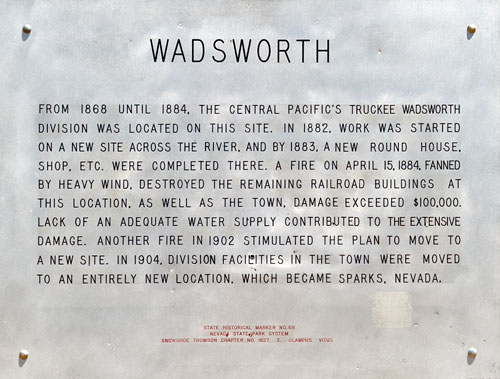 13 July 2010
(Click Photos to Zoom)
Wadsworth
From 1868 until 1884, the Central Pacific's Truckee Wadsworth division was located on this site. In 1882, work was started on a new site across the river, and by 1883, a new round house, shop, etc. were completed there. A fire on April 15, 1884, fanned by heavy wind, destroyed the remaining railroad buildings at this location, as well as the town. Damage exceeded $100,000. Lack of an adequate water supply contributed to the extensive damage. Another fire in 1902 stimulated the plan to move to a new site. In 1904, division facilities in the town were moved to an entirely new location, which became Sparks, Nevada.
State Historical Marker No. 68
Nevada State Park System
Snowshoe Thomson Chapter No. 1827, E Clampus Vitus

In early July 1904, practically the entire town of Wadsworth picked up and moved to its new location. Personal belongings - including everything from pets and livestock to trees and shrubs - were packed onto railway cars for the move. Entire homes were cut into sections and loaded on Southern Pacific flat cars for transportation, free of charge by the company.
In a matter of weeks, Wadsworth essentially became a ghost town. According to the Nevada State Archives, the population of Wadsworth in 1900 was 1,309, and in 1910, it had dropped to a meager 250.
Source: Nevada Magazine, May/June 2014