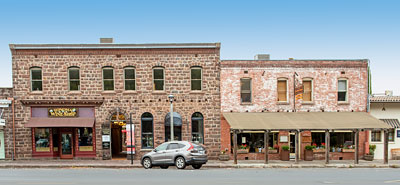 29 August 2016
Pinelli Buildings
408 First Street East
412-416 First Street East
Petaluma
Built 1891
Built by Italian stone worker Augostino Pinelli, a Sonoma resident. The two building are notable for their rock-faced ashlar walls.

Ashlar Masonry
Ashlar masonry is formed using finely dressed stones of same size, shape, and texture laid together in cement or lime mortar of equal size joints at right angles to each other. The joints between the stones are very thin, regular, and of uniform thickness, which make the ashlar masonry very strong and sturdy.
Because it takes time and skill to prepare the finely dressed stones and then build with them, ashlar masonry is most often used for imposing structures like fort, castles, palaces and churches.
Source: The Constructor website.

Wine Country Stonemasons
Italian stonemasons immigrated to Sonoma and Napa counties at the beginning of the 20th century to escape political unrest. Peter Maroni, Natale Forni, Massimo Galeazzi, Angelo Sodini, and others had acquired the skill of cutting hard stone in the quarries of Northern Italy. Stone was quarried in Santa Rosa and Kenwood, dropped from bunkers into horse-driven wagons, and conveyed to building sites where stone was finish cut and set in place. (Source: NRHP nomination form for Railroad Square Historic District in Santa Rosa.)
Many of their structures survived earthquakes, floods and urban renewal and are here today: