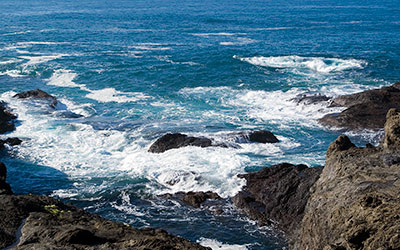 Pacific Coast Near the Shipwreck Frolic
National Register #91000565
Shipwreck of the Brig Frolic
Northeast of Point Cabrillo
Caspar
Year 1850
On the night of July 25th, 1850, the Baltimore Clipper Frolic, which was transporting opium from China to Gold Rush California, wrecked on a reef near the spot where the Point Cabrillo Light Station would be built more than a half-century later. The light station, including an exhibit about the Frolic, is open to the public.

The Frolic was an exceptional vessel, a thoroughbred among the common herd which came to California. Her pedigree was second to none. Baltimore was known worldwide as the home of fast sailing vessels. The Baltimore Clipper was developed in the nineteenth century for use in dangerous trades where speed mattered.
Built at Baltimore in 1844, Frolic was designed to run opium from India to China. The opium trade required vessels fast enough to run away from pirates and trade rivals, and to make passages against prevailing monsoon winds.
Frolic was large for a Baltimore Clipper at 97 feet on deck, 24 feet of beam and 209 registered tons. She was rigged as a brig, her two raked masts each carrying square yards. Although no plans have survived, she is known to have carried a great spread of sail. Her builders, the Gardner Brothers, were among the best of the Baltimore yards.
Source: Exhibit in the Point Cabrillo Light Station