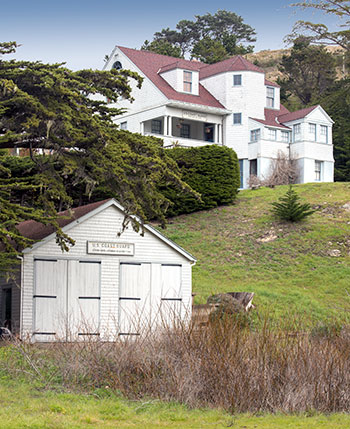 U.S. Coast Guard Arena Cove Lifeboat Station No. 314
28 February 2018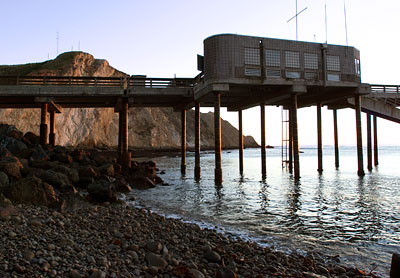 Arena Cove Pier
13 November 2005
The pier does not contribute to the historic district. The old wooden pier was destroyed during the winter of 1982-1983 and replaced with a 322-foot-long steel and concrete pier with a boat launch and hoist.
(Click Photos to Zoom)
National Register #90001363
Arena Cove Historic District
Arena Cove
Point Arena
Period 1875-1933
The Arena Cove Historic District represents the commercial maritime activity that formed the backbone of Point Arena's economy from the 1860s to the early 20th century.
It was at the cove that lumber, dairy products, and other fruits of local labor were shipped to San Francisco. And it was at the cove that people and manufactured goods arrived on their way to town and outlying areas. The Wharfmaster's house was built at the beginning of this period of commercial activity.
The other structures in the district were built for the life-saving station established at the cove in 1903. The life saving station later became Coast Guard Station #314 and was decommissioned in 1958.
The architectural integrity of all the structures remains high, although some alterations have occurred.
The period of significance has been ended at 1933, the date of the Longshoremen's strike after which the wharf area declined in significance.
The Arena Cove District covers 200 acres with ten contributing buildings and three contributing structure.
Excerpted from the NRHP nomination.
| Name | Year | Address | Remarks | Sort Address | Sort Name |
| --- | --- | --- | --- | --- | --- |
| Coast Guard Boathouse | 1903 | Resource 1 | | R01 | Coast Guard Boathouse |
| Wharfmaster ' s House | 1875 | Resource 2 | | R02 | Wharfmaster ' s House |
| Industrial Building | 1925 | Resource 3 | | R03 | Industrial Building |
| Coast Guard Garage | 1902 | Resource 4 | | R04 | Coast Guard Garage |
| Residence | 1910 | Resource 5 | | R05 | Residence |
| Coast Guard Captain's Residence | 1902 | Resource 6 | | R06 | Coast Guard Captain's Residence |
| Garage for Captain's Residence | 1910 | Resource 7 | | R07 | Garage for Captain's Residence |
| Auxiliary Structure | 1903 | Resource 8 | | R08 | Auxiliary Structure |
| Storage Shed or Outhouse | 1903 | Resource 9 | | R09 | Storage Shed or Outhouse |
| Water Storage Tanks | | Resource 10 | | R10 | Water Storage Tanks |
| Flagpole | 1902 | Resource 11 | | R11 | Flagpole |
| Shed | 1910 | Resource 12 | | R12 | Shed |
| Staircase and Retaining Wall | | Resource 13 | | R13 | Staircase and Retaining Wall |