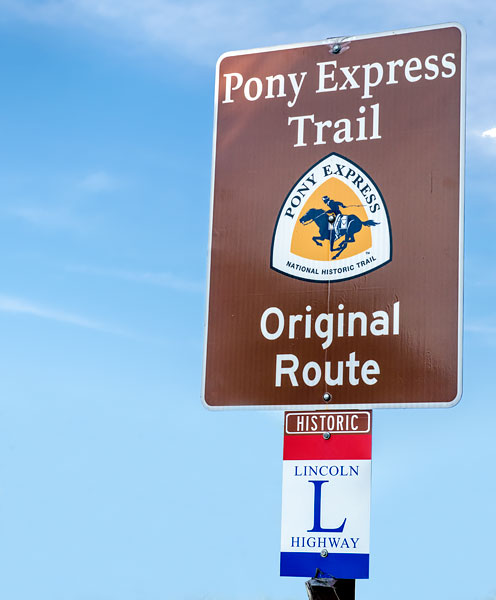 17 October 2022
The Pony Express National Historic Trail runs from St. Joseph in Missouri
to Sacramento in California.
Lincoln Highway ran from Times Square in New York City to Lincoln Park
in San Francisco.
The (Kit) Carson Trail ran from Humboldt Sink in Nevada to Placerville
in California.
Sections of all three run through El Dorado County.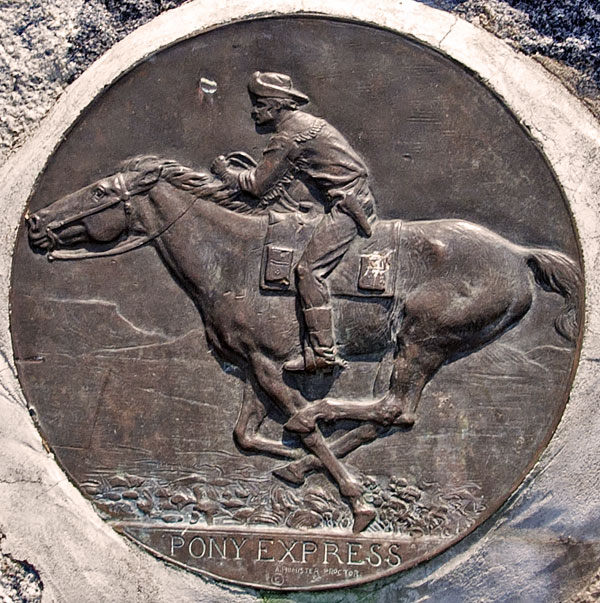 Pony Express Rider at Yank's Station in Meyers
14 July 2008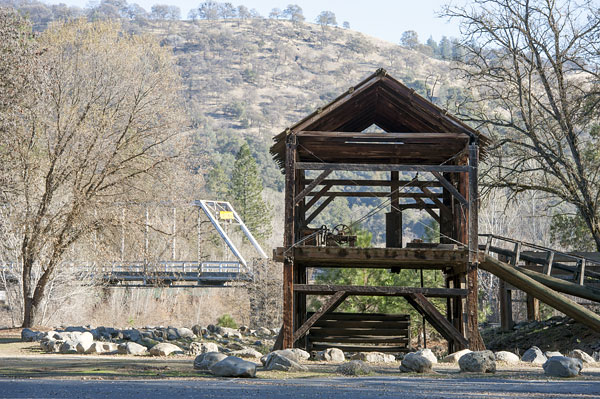 Mt. Murphy Road Bridge and Sutter Mill Replica
13 December 2013
Before & After
Ice House Road Rest Area on US-50
18 October 2022
James W. Marshall discovered gold in Coloma on January 19, 1848, and the population of California and what would become El Dorado County, exploded with miners hoping to strike it rich.
El Dorado, Spanish for "Golden One", was one of the original 27 Counties of the State of California, formed by an Act on February 18, 1850. Coloma was the first County seat of El Dorado County, but when the gold began to become scarce the County seat was moved to Placerville in 1857.
Source: County of El Dorado website
| Name | Address | City | Year | Authority | ID | Sort Address | Sort Name |
| --- | --- | --- | --- | --- | --- | --- | --- |
| Hangman's Tree | 305 Main Street | Placerville | 1849 | California | 141 | Main 0305 | Hangman's Tree |
| Studebaker's Shop Site | 543 Main Street | Placerville | 1850 | California | 142 | Main 0543 | Studebaker's Shop Site |
| Marshall Monument | Back Street | Marshall Gold Discovery SHP | 1848 | California | 143 | Back | Marshall Monument |
| Marshall Blacksmith Shop | CA-193 | Kelsey | 1872 | California | 319 | 193 | Marshall Blacksmith Shop |
| Shingle Springs | 4270 Mother Lode Drive | Shingle Springs | 1849 | California | 456 | Mother Lode | Shingle Springs |
| Placerville | Bedford and Main | Placerville | 1848 | California | 475 | Bedford Main | Placerville |
| Georgetown | 6281 Main Street | Georgetown | 1849 | California | 484 | Main 6281 | Georgetown |
| El Dorado | 6191 Pleasant Valley Road | El Dorado | | California | 486 | Pleasant Valley 6191 | El Dorado |
| Diamond Springs | 501 Pleasant Valley Road | Diamond Springs | 1848 | California | 487 | Highway 049 | Diamond Springs |
| Greenwood | CA-193 | Greenwood | 1849 | California | 521 | 193 | Greenwood |
| Gold Discovery Site | Gold Discovery Loop Trail | Marshall Gold Discovery SHP | 1848 | California | 530 | Gold Discovery | Gold Discovery Site |
| Grange Hall Site | CA-49 | Pilot Hill | 1889 | California | 551 | 49 | Grange Hall Site |
| Mormon Island | Green Valley Road at Shadowfax Lane | Folsom Lake SRA | | California | 569 | Green Valley | Mormon Island |
| Negro Hill | Green Valley Road at Shadowfax Lane | Folsom Lake SRA | | California | 570 | Green Valley | Negro Hill |
| Salmon Falls | Green Valley Road at Shadowfax Lane | Folsom Lake SRA | | California | 571 | Green Valley | Salmon Falls |
| Condemned Bar | Green Valley Road at Shadowfax Lane | Folsom Lake SRA | | California | 572 | Green Valley | Condemned Bar |
| Pony Express: Mormon Tavern | Jaeger Road | Clarksville | 1860 | California | 699 | Jaeger | Pony Express: Mormon Tavern |
| Pony Express: Nevada House | 6170 Pleasant Valley Road | El Dorado | 1860 | California | 700 | Pleasant Valley 6170 | Pony Express: Nevada House |
| Pony Express: Placerville | Main and Sacramento | Placerville | 1860 | California | 701 | Main Sacramento | Pony Express: Placerville |
| Pony Express: Pleasant Grove House | 2500 Green Valley Road | Green Springs Ranch | 1860 | California | 703 | Green Valley | Pony Express: Pleasant Grove House |
| Pony Express: Sportsman's Hall | 5622 Old Pony Express Trail | Pollock Pines | 1860 | California | 704 | Old Pony Express Trail 5622 | Pony Express: Sportsman's Hall |
| Pony Express: Riverton | US-50 at Ice House Road | Riverton | 1860 | California | 705 | 50 | Pony Express: Riverton |
| Pony Express: Sugar Loaf House | 13275 US-50 | Kyburz | 1860 | California | 706 | 50 | Pony Express: Sugar Loaf House |
| Pony Express: Strawberry Valley House | 17525 US-50 | Strawberry | 1860 | California | 707 | 50 | Pony Express: Strawberry Valley House |
| Pony Express: Yank's Station | 2977 US-50 | Meyers | 1860 | California | 708 | 50 | Pony Express: Yank's Station |
| Pony Express: Friday's Station | 15 US-50 | Stateline (Nevada) | | California | 728 | 50 | Pony Express: Friday's Station |
| Coloma Road-Rescue | 4222 Green Valley Road | Rescue | 1848 | California | 747 | Green Valley 4222 | Coloma Road-Rescue |
| Coloma Road-Coloma | Gold Discovery Loop Trail | Coloma | 1848 | California | 748 | Gold Discovery | Coloma Road-Coloma |
| Methodist Episcopal Church | 1031 Thompson Way | Placerville | 1851 | California | 767 | Thompson 1031 | Methodist Episcopal Church |
| Wakamatsu Tea and Silk Farm | 889 Cold Springs Road | Gold Hill | 1869 | California | 815 | Cold Springs 0889 | Wakamatsu Tea and Silk Farm |
| Site of Echo Summit | 21200 Highway 50 | South Lake Tahoe | | California | 1048 | Highway 050 | Site of Echo Summit |
| Mountain Quarries Railroad Bridge | Calcutta Falls Trail off Route 49 | Auburn | | California | 1051 | Calcutta Falls Trail | Mountain Quarries Railroad Bridge |
| Coloma | CA-49 | Coloma | 1848 | National | 1966000207 | 49 | Coloma |
| Sugar Pine Point State Park | CA-89 | Sugar Pine Point | | National | 1973000401 | 89 | Sugar Pine Point State Park |
| Episcopal Church of Our Saviour | 2979 Coloma Street | Placerville | 1865 | National | 1977000291 | Coloma 2979 | Episcopal Church of Our Saviour |
| Lombardo Ranch (Boeger Winery) | 1709 Carson Road | Placerville | | National | 1977000292 | Carson 1709 | Lombardo Ranch (Boeger Winery) |
| Bayley Hotel | Highway 49 North of Pilot Hill | Pilot Hill | 1863 | National | 1978000660 | Highway 049 | Bayley Hotel |
| Confidence Hall | 487 Main Street | Placerville | 1860 | National | 1982002174 | Main 0487 | Confidence Hall |
| Fountain-Tallman Soda Works | 524 Main Street | Placerville | 1853 | National | 1984000770 | Main 0524 | Fountain-Tallman Soda Works |
| Combellack-Blair House | 3059 Cedar Ravine | Placerville | 1895 | National | 1985000259 | Cedar Ravine 3059 | Combellack-Blair House |
| John Pearson Soda Works | 594 Main Street | Placerville | 1859 | National | 1985003326 | Main 0594 | John Pearson Soda Works |
| Gold Bug Mine | 2635 Gold Bug Lane | Placerville | 1860 | National | 1985003522 | Gold Bug | Gold Bug Mine |
| Eddy Tree Breeding Station | 2480 and 2500 Carson Road | Placerville | | National | 1987000485 | Carson 2480 | Eddy Tree Breeding Station |
| Pope Estate | CA-89 | Tallac Historical Site | | National | 1987000495 | 89 | Pope Estate |
| Baldwin Estate | CA-89 | Tallac Historical Site | | National | 1987000496 | 89 | Baldwin Estate |
| Heller Estate | CA-89 | Tallac Historical Site | | National | 1987000497 | 89 | Heller Estate |
| Tahoe Meadows | US-50 | South Lake Tahoe | 1925 | National | 1990000555 | 50 | Tahoe Meadows |
| Vikingsholm | 10001 Emerald Bay Road | Emerald Bay State Park | | National | 1996001078 | Highway 089 | Vikingsholm |
| Wakamatsu Tea and Silk Farm | 941 Cold Springs Road | Gold Hill | 1869 | National | 2009000397 | Cold Springs 08941 | Wakamatsu Tea and Silk Farm |
| American Hotel | 6600 Orleans Street | Georgetown | 1899 | POI | | Orleans 6600 | American Hotel |
| Bee-Bennett House | 643 Bee Street | Placerville | | POI | | Bee | Bee-Bennett House |
| Branch Saloon | 327 Main Street | Placerville | | POI | | Main 0327 | Branch Saloon |
| Carson Trail Marker 55 | Mormon Emigrant Trail | Rural | | POI | | Mormon Emigrant | Carson Trail Marker 55 |
| Carson Trail Marker 56 | Mormon Emigrant Trail | Rural | | POI | | Mormon Emigrant | Carson Trail Marker 56 |
| Carson Trail Marker 57 | Mormon Emigrant Trail | Rural | | POI | | Mormon Emigrant | Carson Trail Marker 57 |
| Carson Trail Marker 58 | Mormon Emigrant Trail | Rural | | POI | | Mormon Emigrant | Carson Trail Marker 58 |
| Carson Trail Marker 59 | Mormon Emigrant Trail | Rural | | POI | | Mormon Emigrant | Carson Trail Marker 59 |
| Carson Trail Marker 60 | US-50 | Rural | | POI | | 50 | Carson Trail Marker 60 |
| Carson Trail Marker 61 | Park Creek Road | Rural | | POI | | Park Creek | Carson Trail Marker 61 |
| Carson Trail Marker 62 | Starkes Grade Road | Sly Park | | POI | | Starkes Grade | Carson Trail Marker 62 |
| Carson Trail Marker 63 | Pleasant Valley Road | Pleasant Valley | | POI | | Pleasant Valley | Carson Trail Marker 63 |
| Carson Trail Marker 64 | Pleasant Valley Road | Pleasant Valley | | POI | | Pleasant Valley | Carson Trail Marker 64 |
| Carson Trail Marker 65 | Pleasant Valley Road | Pleasant Valley | | POI | | Pleasant Valley | Carson Trail Marker 65 |
| Carson Trail Marker 66 | Holm Road | Pleasant Valley | | POI | | Holm | Carson Trail Marker 66 |
| Carson Trail Marker 67 | Cedar Ravine Road | Tiger Lily | | POI | | Cedar Ravine Road | Carson Trail Marker 67 |
| Carson Trail Marker 68 | Coon Hollow Road | Placerville | | POI | | Coon Hollow | Carson Trail Marker 68 |
| Carson Trail Marker 69 | Benham Street | Placerville | | POI | | Benham | Carson Trail Marker 69 |
| Cemetery of Lost Souls | 104 Placerville Drive | Placerville | | POI | | Placerville 0104 | Cemetery of Lost Souls |
| Civil War Armory | 6261 Main Street | Georgetown | 1862 | POI | | Main 6261 | Civil War Armory |
| Davis and Roy News Depot | 435 Main Street | Placerville | | POI | | Main 0435 | Davis and Roy News Depot |
| Douglass-Hines Building Bricks | 403 Main Street | Placerville | | POI | | Main 0403 | Douglass-Hines Building Bricks |
| Emigrant Jane | 489 Main Street | Placerville | | POI | | Main 0489 | Emigrant Jane |
| Emmanuel Church | Church Street | Coloma | 1855 | POI | | Church | Emmanuel Church |
| Georgetown Firehouse | 6281 Main Street | Georgetown | 1854 | POI | | Main 6281 | Georgetown Firehouse |
| Georgetown Hotel | 6260 Main Street | Georgetown | 1856 | POI | | Main 6260 | Georgetown Hotel |
| Georgetown Methodist Church | 2853 Church Street | Georgetown | | POI | | Church 2853 | Georgetown Methodist Church |
| Georgetown Pride of the Sierra | 304 Main Street | Georgetown | 1849 | POI | | Main 0304 | Georgetown Pride of the Sierra |
| Georgetown Volunteer Firemen | 6281 Main Street | Georgetown | 1854 | POI | | Main 6281 | Georgetown Volunteer Firemen |
| IOOF Hall (Diamond Springs) | 3737 Odd Fellows Road | Diamond Springs | | POI | | Odd Fellows 3737 | IOOF Hall (Diamond Springs) |
| IOOF Hall (Georgetown) | 6249 Main Street | Georgetown | 1859 | POI | | Main 6249 | IOOF Hall (Georgetown) |
| IOOF Hall (Placerville) | 467 Main Street | Placerville | | POI | | Main 0467 | IOOF Hall (Placerville) |
| Johnson Cutoff Marker 09 | Golden Bear Trail | South Lake Tahoe | | POI | | Pioneer | Johnson Cutoff Marker 09 |
| Johnson Cutoff Marker 10 | South Upper Truckee Road | Rural | | POI | | Upper Truckee South | Johnson Cutoff Marker 10 |
| Johnson Cutoff Marker 11 | Lincoln Highway | Rural | | POI | | Lincoln | Johnson Cutoff Marker 11 |
| Johnson Cutoff Marker 12 | US-50 | Rural | | POI | | 50 | Johnson Cutoff Marker 12 |
| Johnson Cutoff Marker 13 | Strawberry Road | Rural | | POI | | Strawbarry | Johnson Cutoff Marker 13 |
| Johnson Cutoff Marker 14 | Wrights Lake Road | Rural | | POI | | Wrights Lake | Johnson Cutoff Marker 14 |
| Johnson Cutoff Marker 15 | Wrights Lake Road | Rural | | POI | | Wrights Lake | Johnson Cutoff Marker 15 |
| Johnson Cutoff Marker 16 | FS Road 11N34 | Rural | | POI | | 11N34 | Johnson Cutoff Marker 16 |
| Johnson Cutoff Marker 17 | FS Road 11N99 | Rural | | POI | | 11N99 | Johnson Cutoff Marker 17 |
| Johnson Cutoff Marker 18 | Peavine Ridge Road | Rural | | POI | | Peavine Ridge | Johnson Cutoff Marker 18 |
| Johnson Cutoff Marker 19 | Peavine Ridge Road | Rural | | POI | | Peavine Ridge | Johnson Cutoff Marker 19 |
| Johnson Cutoff Marker 20 | Peavine Ridge Road | Rural | | POI | | Peavine Ridge | Johnson Cutoff Marker 20 |
| Johnson Cutoff Marker 21 | OHV Road | Rural | | POI | | OHV | Johnson Cutoff Marker 21 |
| Johnson Cutoff Marker 22 | OHV Road | Rural | | POI | | OHV | Johnson Cutoff Marker 22 |
| Johnson Cutoff Marker 23 | Dubasary Lane | El Dorado National Forest | | POI | | Dubasary | Johnson Cutoff Marker 23 |
| Johnson Cutoff Marker 24 | Old Carson Road | Pollock Pines | | POI | | Old Carson | Johnson Cutoff Marker 24 |
| Johnson Cutoff Marker 25 | Park Creek Road | Rural | | POI | | Park Creek | Johnson Cutoff Marker 25 |
| Johnson Cutoff Marker 26 | 6462 Pony Express Trail | Pollock Pines | 1850 | POI | | Pony Express 6462 | Johnson Cutoff Marker 26 |
| Johnson Cutoff Marker 27 | 5620 Pony Express Trail | Pollock Pines | 1863 | POI | | Pony Express 5620 | Johnson Cutoff Marker 27 |
| Johnson Cutoff Marker 28 | North Canyon Road | Rural | | POI | | North Canyon | Johnson Cutoff Marker 28 |
| Johnson Cutoff Marker 29 | Boeger Lane | Placerville | | POI | | Boeger | Johnson Cutoff Marker 29 |
| Johnson Cutoff Marker 30 | Benham Street | Placerville | | POI | | Benham | Johnson Cutoff Marker 30 |
| Lower Fairchild Building | 429 Main Street | Placerville | | POI | | Main 0429 | Lower Fairchild Building |
| Luther Pass Trail Marker 2 | CA-89 | Rural | | POI | | 89 | Luther Pass Trail Marker 2 |
| Luther Pass Trail Marker 3 | CA-89 | Rural | | POI | | 89 | Luther Pass Trail Marker 3 |
| Luther Pass Trail Marker 4 | South Upper Truckee Road | Rural | | POI | | Upper Truckee South | Luther Pass Trail Marker 4 |
| Luther Pass Trail Marker 5 | South Upper Truckee Road | Rural | | POI | | Upper Truckee South | Luther Pass Trail Marker 5 |
| Marshall Anniversary | Back Street | Marshall Gold Discovery SHP | 1810 | POI | | Back | Marshall Anniversary |
| Marshall Cabin | Marshall Park Way | Marshall Gold Discovery SHP | 1856 | POI | | Marshall Park Way | Marshall Cabin |
| Miners Club | 6285 Main Street | Georgetown | 1862 | POI | | Main 6285 | Miners Club |
| Mormon Island Relocation Cemetery | Shadowfax Lane | Folsom Lake | | POI | | Shadowfax | Mormon Island Relocation Cemetery |
| Mt. Murphy Road Bridge | Mt. Murphy Road Bridge | Marshall Gold Discovery SHP | | POI | | Mt. Murphy | Mt. Murphy Road Bridge |
| Old Veteran Jeffrey Pine | CA-89 | Tallac Historic Site | 1650 | POI | | 89 | Old Veteran Jeffrey Pine |
| Placerville Hardware | 441 Main Street | Placerville | | POI | | Main 0441 | Placerville Hardware |
| Randolph Jewelers | 369 Main Street | Placerville | | POI | | Main 0369 | Randolph Jewelers |
| Shannon Knox House | 6330 Georgetown Road | Georgetown | 1854 | POI | | Georgetown 6330 | Shannon Knox House |
| Snowshoe Thompson | Main and Sacramento Streets | Placerville | 1856 | POI | | Main | Snowshoe Thompson |
| St. James Catholic Church | 6075 Front Street | Georgetown | 1923 | POI | | Front 6075 | St. James Catholic Church |
| Stone House | 847 Pacific Street | Placerville | | POI | | Pacific 0847 | Stone House |
| Sutter Mill Replica | CA-49 | Marshall Gold Discovery SHP | 1848 | POI | | 49 | Sutter Mill Replica |
| Swift Berry | 1160 Broadway | Placerville | | POI | | Broadway 1160 | Swift Berry |
| Wells Fargo Bank and Stage Stop | 6265 Main Street | Georgetown | 1852 | POI | | Main 6265 | Wells Fargo Bank and Stage Stop |
| Wonderly House | 585 Main Street | Placerville | | POI | | Main 0585 | Wonderly House |