California Historical Landmark 530
Gold Discovery Site
Gold Discovery Loop Trail on the Right Bank of South Fork American River
Marshall Gold Discovery State Historic Park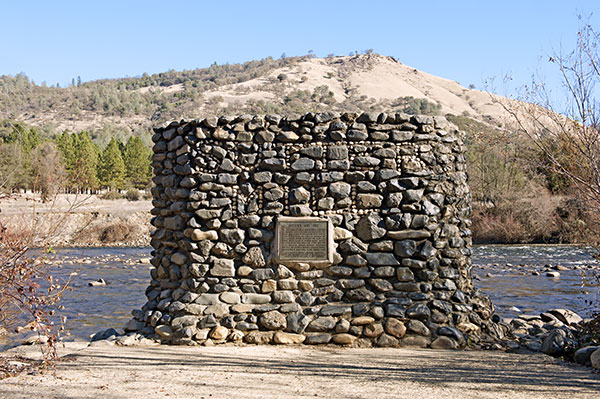 13 December 2013
(Click Photos to Zoom)
Sutter's Mill Site
This rock monument marks site of John A. Sutter's saw mill in the tailrace of which James W. Marshall discovered gold, January 24, 1848, starting the great rush of argonauts to California. The Society of California Pioneers definitely located and marked site in 1924. Additional timbers and relics, including original tailrace unearthed in 1947, were discovered after property became state park. Marshall Monument overlooking this spot was erected following movement inaugurated in 1886 by Native Sons of the Golden West.
Tablet placed by Historic Landmarks Committees
Native Sons and Native Daughters of the Golden West
January 24, 1948 on Centennial of Gold Discovery

Nearby stands a replica of the mill.