California Historical Landmark 475
Placerville
Bedford and Main
Placerville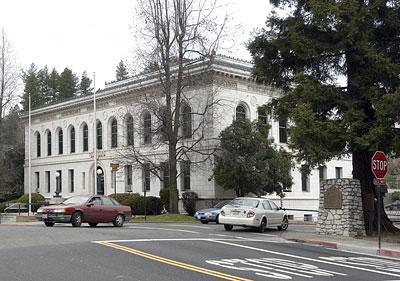 The plaque stands at the intersection east
of the El Dorado County Courthouse,
a short block from Highway 50
which runs behind the courthouse.
Highway 50 was the Pony Express Trail.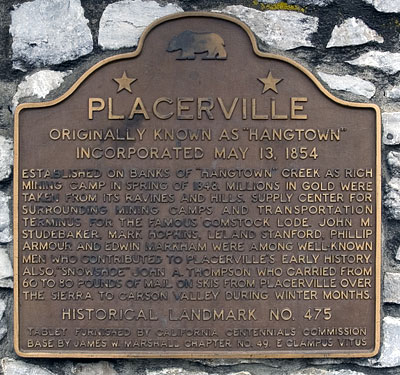 24 February 2007
(Click Photos to Zoom)
Placerville
Originally Known As "Hangtown"
Incorporated May 13, 1854
Established on banks of "Hangtown Creek" as rich mining camp in spring of 1848. Millions in gold were taken from its ravines and hills. Supply center for surrounding mining camps and transportation terminus for the famous Comstock Lode. John M. Studebaker, Mark Hopkins, Leland Stanford, Phillip Armour, and Edwin Markham were among well-known men who contributed to Placerville's early history. Also "Snowshoe" John A. Thompson who carried from 60 to 80 pounds of mail on skis from Placerville over the Sierra to Carson Valley during winter months.
Historical Landmark No. 475
Tablet furnished by California Centennials Commission
Base by James W. Marshall Chapter No. 49, E Clampus Vitus