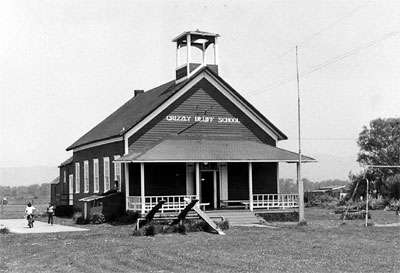 1978 Photograph from NRHP Nimination
(Click Photos to Zoom)
National Register #79000476
Grizzly Bluff School
Grizzly Bluff Road Near Pine Creek School Road
Grizzly Bluff
Built 1871
Grizzly Bluff, is located in the Eel River Valley, six miles east of Ferndale, California. Settled in 1853, the community grew to include a number of commercial and public buildings, but of those, only a much altered church and this school remain.
The school building at Grizzly Bluff has achieved a remarkable record: it is recognized as the oldest school building in the county of Humboldt. It operated continuously as the community's only educational facility from 1871 to 1978. It is the only recognizable link with the early settlement of Grizzly Bluff.
The building is an excellent example of its type and period. Although Greek Revival styling had generally passed from popularity at this time, its vernacular variations were still utilized in this remote northern section of the state. The Grizzly Bluff School represents the small one-room school building typical of 19th Century rural California, executed by local builders in an appropriate classical-based architectural mode.
Excerpted from the NRHP Nomination.

Some Historic Schoolhouses in Northern California