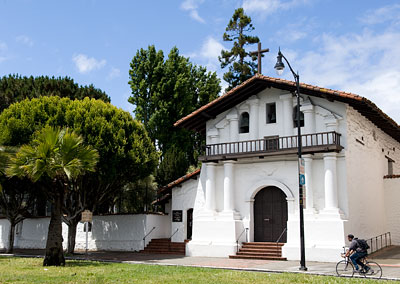 Misión San Francisco de Asís
in San Francisco
One of the Spanish missions which inspired
the Mission Revival style
Built 1782-1791
Photographed 27 May 2010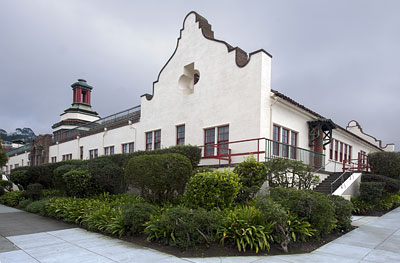 Infant Shelter
in San Francisco
Note the mission parapet with coping
and the quatrefoil window
Built 1928
Photographed 31 January 2012
(Click Photos to Zoom)
The Mission Revival style originated in California and was inspired by the state's Hispanic heritage. The style was popularized by the many train depots and hotels built by the Southern Pacific and Santa Fe railroads throughout the Far West.
The Mission Revival style peaked after World War I. It was superseded by the Spanish Colonial Revival style which attempted a more faithful rendering of New World Spanish prototypes than the more romantic Mission Revival style.
Characteristics of the Mission Revival style are:
red tile roofs with wide, overhanging eaves
shaped mission parapet and dormers
smooth, stucco walls
arcades and porches supported by large columns
quatrefoil windows
bell towers
coping

At the end of the 19th century, Mission Revival was considered to be the architectural style most congenial to the landscape and heritage of California. Books and periodicals romanticized the lost Spanish past while commercial brochures promoted an arcadian present to lure business, residents, tourists.
Tiled roofs, stucco walls, arches and arcades were soon poular for railroad stations, schools, commercial buildings and houses all over California. According to David Gebhard in Architecture of San Francisco and Northern California, "although the style did not transform northern California as it did the southern part of the state, hardly a single town came out of the period without at least one building clothed in Mission Revival garb."
Source: Adapted from the NRHP nomination for NCO Railway Headquarters building in Alturas, California