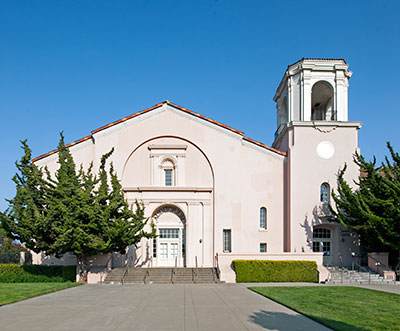 25 September 2012
Elevated BART Tracks and University High School
29 August 2012
National Register #92001300
University High School
5714 Martin Luther King Jr. Way
Oakland
Built 1922-1923
University High School, designed in 1922 by Charles W. Dickey, retains most of its architectural integrity. It is a particularly fine and rare surviving example of early 20th century California school architecture, modeled on the California missions and designed to reflect the local setting and climate and the prestige of the laboratory school it housed.
Few similar buildings have survived, due to changes in building codes and fashions in school architecture. Used by a series of schools from 1923 to 1983, the campus is also important in Oakland educational and social history, successively as a widely respected progressive high school, an early community college, and the birthplace of the Black Panther Party, ethnic studies, and the Chicano muralist movement.
Adapted from the NRHP nomination.

When we took the photograph in August 2012, the building was home to the North Oakland Senior Center.