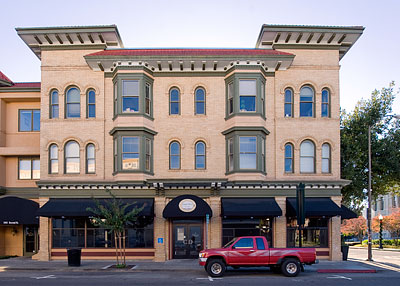 National Register #82002212
Alexandria Hotel and Annex
840-844 Brown Street
Napa
Built 1910
The Alexandria Hotel was designed by Napa architect William H. Corlett and built in 1910. The annex is older than the hotel and was redesigned to match the hotel when the hotel was built.
According to the NRHP nomination, Corlett's design for the building combined elements of the Mission Revival style and Mediterranean Revival style, both of which were popular in California in the early 20th century. However, to this observer, the architectural style is primarily Italianate, especially the fenestration which incorporates Palladian windows.
Source: Adapted from the NRHP nomination submitted in 1982.

Three National Register properties are located at the intersection of Second and Brown Streets. The Alexandria Hotel, the Art Deco addition to the Bank of Napa and the Napa County Courthouse.