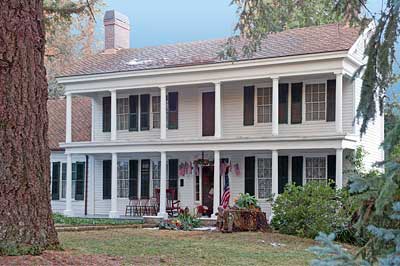 Replica of Ante-Bellum Mississippi plantation house.
It may be the only house of this type in California.
William Morris Stewart Mansion in Nevada City, California
Built 1855
Photographed 16 December 2013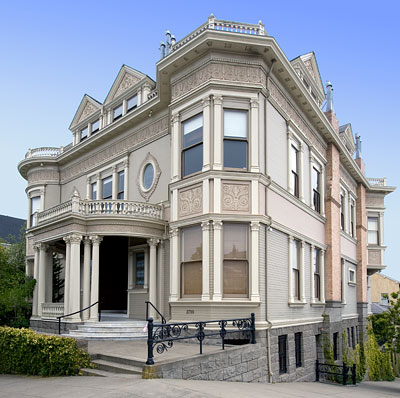 "Academically Correct" Colonial Revival Residence
Ellinwood Residence in San Francisco
Built 1894
Photographed 4 June 2010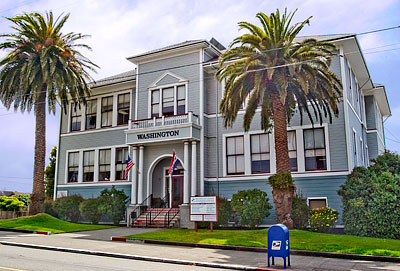 Vernacular Schoolhouse with Colonial Revival Detailing
Washington School in Eureka, California
Built 1902
Photographed 6 July 2007
(Click Photo to Zoom)
The Colonial Revival style, introduce around 1876, was derived from houses built in the eastern United States a century earlier. The style has been popular ever since. Between the World Wars, it was the most popular historic revival house style in the United States.
Colonial Revival houses, like their models, are usually two stories, with a ridge pole parallel to the street, a symmetrical front facade, an accented doorway with evenly spaced windows on either side of it.
Architectural detail which distinguish Colonial Revival buildings from earlier colonial buildings are:
elaborate front doors, often with decorative crown pediments and overhead fanlights and sidelights, but with machine-made woodwork that had less depth and relief than earlier handmade versions.
Window openings, while symmetrically located on either side of the front entrance, were usually hung in adjacent pairs or in triple combinations rather than as single windows.
Side porches or sunrooms were common additions to these homes, introducing modern comforts.
Also distinctive in this style are multiple columned porches and doors with fanlights and sidelights.
Year
Address
City
Sort Address
Sort Name
Black House
1900
418 Pajaro Street
Salinas
Pajaro 0418
Black House
Brown House
1904
274 South Main Street
Riddle, OR
Main S 0274
Brown House
Burke House
1908
36 Steward Street
Reno
Steward 0036
Burke House
Bursell House
1919
3075 Hanley Road
Central Point, OR
Hanley 3075
Bursell House
Chappell-Swedenburg House
1905
990 Siskiyou Boulevard
Ashland, OR
Siskiyou 0990
Chappell-Swedenburg House
Clark House
1930
1917 East Main Street
Medford, OR
Main E 1917
Clark House
Coquille River Life Boat Station
1939
390 First Street SW
Bandon, OR
Street 01
Coquille River Life Boat Station
Corning Court
1925
5 Corning Court
Medford
Corning 0005
Corning Court
Doolan Residence and Storefronts
1903
1500-1512 Haight Street
San Francisco
Haighr 1500
Doolan Residence and Storefronts
Driver House
1926
4140 Old Stage Road
Central Point
Old State 4140
Driver House
Dunlap's Dining Room
1907
4322 4th Avenue
Sacramento
Avenue 04 4322
Dunlap's Dining Room
Ellinwood Residence
1894
2799 Pacific Avenue
San Francisco
Pacific 2799
Ellinwood Residence
Flanagan House
1905
720 Northwest 6th Street
Grants Pass
Street 06 NW 0720
Flanagan House
Flanagan House
1900
720 Northwest 6th Street
Grants Pass, OR
Street 06 NW 0720
Flanagan House
Giraud House
1914
442 Flint Street
Reno, NV
Flint 0442
Giraud House
Gray House
1911
457 Court Street
Reno, NV
Court 0457
Gray House
Hafer House
1905
426 West 6th Street
Medford, OR
Street 06 W 0426
Hafer House
Held-Poage House
1903
603 West Perkins Street
Ukiah
Perkins W 0603
Held-Poage House
Hinds House
1888
529 Chestnut Street
Santa Cruz
Chestnut 0529
Hinds House
Howe House
1903
2215 21st Street
Sacramento
Street 21 2215
Howe House
Jensen House
1910
1431 Ezell Street
Gardnerville, NV
Ezell 1431
Jensen House
Manasse Mansion
1886
443 Brown Street
Napa
Brown 0442
Manasse Mansion
Mills House
1913
315 Seward Street
Sitka
Seward 0315
Mills House
Morse-Skinner Ranch House
1869
13063 North Highway 99 Frontage Road
Lodi
Highway 99
Morse-Skinner Ranch House
Nerdrum House
1912
955 South Fifth Street
Coos Bay, OR
Street 05 S
Nerdrum House
Noyes Mansion
1903
1750 1st Street
Napa
0 Street 01 1750
Noyes Mansion
Robison House
1904
409 13th Street
Sparks
Avenue 13 0409
Robison House
Rogue Elk Hotel
1916
27390 Highway 62
Trail
Highway 0062 27390
Rogue Elk Hotel
Roma Bakery
1911
655 Almaden Avenue
San Jose
Almaden 0655
Roma Bakery
Sargent House
1896
154 Central Avenue
Salinas
Central 0154
Sargent House
Shadelands Ranch House
1903
2660 Ygnacio Valley Road
Walnut Creek
Ygnacio Valley 2660
Shadelands Ranch House
Stewart Mansion
1855
410 Zion Street
Nevada City
Zion 0410
Stewart Mansion
Twaddle Mansion
1905
485 West Fifth Street
Reno, NV
Street W 05 0485
Twaddle Mansion
Tyson House
1904
242 West Liberty Street
Reno, NV
Liberty W 0242
Tyson House
Voorhies House
1929
421 Northwest B Street
Grants Pass
Street B NW 0421
Voorhies House
Wagner Creek School
1929
8448 Wagner Creek Road
Talent, OR
Wagner Creek
Wagner Creek School
Washington School
1910
1910 California Street
Eureka
California 1910
Washington School
Wee Kirk
1891
9500 Central Avenue
Ben Lomond
Central 9500
Wee Kirk
Wilson House
1906
860 University Avenue
Palo Alto
University 0860
Wilson House
Luke J. Flynn House
1912
1040 Green Street
San Francisco
Green 1040
Luke J. Flynn House
Charles & Ethel Fickert House
1912
1060 Green Street
San Francisco
Green 1060
Charles & Ethel Fickert House
McNear House
1906
121 Knight Drive
San Rafael
Knight Drive 0121
McNear House