National Register #87002288
Russian Hill/Paris Block Architectural District
1017 Green through 1067 Green Street
Built 1859 through 1925
The Paris Block Architectural District is a group of eleven dwellings facing each other on a single, flat block atop Russian Hill. The buildings are set back from the street with fenced front gardens and street trees. Each building was designed in a different architectural style.
The 1906 Earthquake and Fire destroyed San Francisco except for the western and southern suburbs and a few pockets such as Russian Hill where many dwellings were saved by residents who refused the order to leave and by the sparseness of development on the hilltop. All houses on the northern side of the block were destroyed, but five houses on the south side survived.
The name Paris Block was probably coined by Margot Patterson Doss in a column titled "Explore the Diversities of the Paris Block," San Francisco Chronicle, 5 July 1964. Doss wrote that residents had called it the Paris Block since the completion of the Bos Apartments, a building of Parisian elegance.
Were it not for the great intrusiveness of the 1070 Green Street highrise, the district should have been extended to include the fine Tudor Revival firehouse just beyond it, which is being nominated separately. Even without the firehouse, the district is a highly unusual and very fine encapsulation of San Francisco's 19th century and early 20th century architectural styles.
Source: Adapted from the NRHP nomination submitted in 1987.

To the best of my knowledge, few San Franciscans are aware of the Paris Block, and it is not a tourist destination like nearby Macondray Lane.
Bateman Rental Duplex
1017-1019 Green Street
Built 1925
This duplex residence was designed by architect Ernest H. Hildebrand for Mrs. Ida Jones Bateman, an absentee landlord.
The author of the nomination notes that although the "vaguely Mission Revival design" is not high-quality, the building does contribute to the district in scale, setback, materials, use and integrity.
Butler-Levaggi House
1025 Green Street
Built 1911
This house was designed by architect Harvey E. Harris, Jr. who worked for John Galen Howard. The original owner, a liquor dealer named Louis Butler, sold the house around 1917 to Jules Levaggi, whose descendants owned it until 1980.
The rough-stuccoed house in a mixture of early 20th-century revival styles. The facade and three-bay entry arcade beside the driveway allude to Mission Revival. The gently curved bay window and boxed cornice allude to Colonial Revival. The eaves projecting over part of the side arcade allude to the Craftsman style.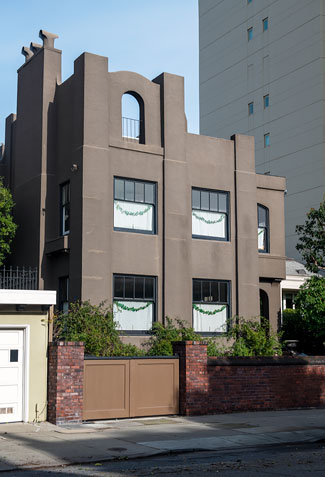 20 December 2019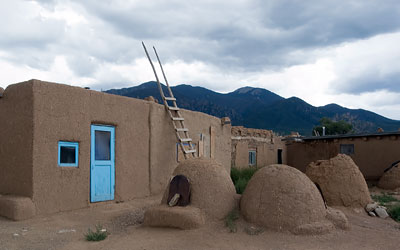 Taos Pueblo in New Mexico
11 August 2007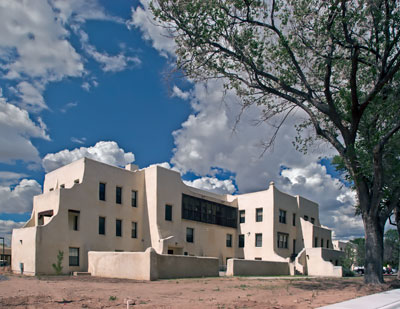 Pueblo Revival Architecture in Santa Fe
9 August 2007
All Photographs by the Author
(Click Photos To Zoom)
John & Blanche Baldwin McGaw House
1030 Green Street
Built 1913
This Pueblo/Mission Revival residence was designed by architect Oscar Haupt who is best known for Altenheim in Oakland, Winfield Scott Elementary School in San Francisco and the top two floors of the Baldwin Hotel in San Francisco.
The house was commissioned by real estate tycoon Orville Dwight Baldwin.
The Mission Revival style is widespread in California. The Pueblo Revival style is uncommon. Historically, the Spanish built missions in California, but pueblos were built by indigenous people in New Mexico and Arizona, not California.
I cannot think of another Pueblo Revival dwelling in San Francisco.
1033 Green Street
Built c1870
This early Italianate frame dwelling was built at an unknown location around 1870 and moved here in around 1891. It is a typical upper middle class San Francisco dwelling of the period.
Fashionable tailor Oliver W. Nordwell owned the building when it was moved, but he lived a few blocks away at 1405 Taylor Street.
The next owner, cannery superintendent James S. Cowan, lived here beginning in 1897. (The nomination form does not name the cannery, but San Francisco's cannery row was located on the northern waterfront about three quarters of a mile north of here.)
The third story was added around 1960.
George Phillips Flats
1039-1043 Green Street
Built 1885
This building's main contribution to the Paris Block is the unusual twice-curved, balustraded exterior staircase. The architects Samuel and Joseph Gather Newsom are known for eccentric and imaginative "low art" such as the Carson Mansion in Eureka. Here, the staircase is the only signature Newsom touch. Otherwise the facade is typical of late San Francisco Italianates.
Lumber clerk George J. Phillips, was first listed here in 1885.

In San Francisco, in 2019, black was the trending color for Victorian houses.
Most of the staircase is hidden by a construction barrier. In San Francisco, in 2019, vintage buildings were being renovated in every neighborhood.
Luke J. Flynn House
1040 Green Street
Built 1912
This Colonial Revival dwelling was designed by architect Llewellyn B. Button who had studied in Chicago with W. L. B. Jenny and Daniel Burnham. Llewellyn designed a number of well-regarded Beaux Arts buildings in downtown San Francisco and the First National Bank buildings of Oakland and San Jose. He designed residences but few of them are known.
The client was Luke J. Flynn, who was associated with capitalist James L. Flood and resided here at least through 1923.
The property has a detached two-car garage which party obscures the house and is the only non-contributing building in the district.
O'Brien Family House
1045 Green Street
Built c1867
Remodeled c1910
The district's smallest building was constructed around 1867 as a modest Italianate dwelling.
In 1875 John O'Brien, employment and real estate agent, moved here with his family. His son, postman Charles W. O'Brien, added the fashionable Craftsman shingles and cupola around 1910 and lived here through 1945.
George A. Bos Apartments
1050 Green Street
Built 1913
This elegant apartment building was probably responsible for the name, Paris Block.
The five-story, severely Classical Revival, stuccoed brick building is set at the rear of its lot behind a formal lawn and garden. The facade is perfectly symmetrical, with five bays and a small centered, pedimented portico. The restrained ornamentation is limited to a shallow, modillioned cornice, sloping tile roof, wrought iron sham balconies and the portico, which has paired Tuscan columns and pilasters.
The architect was Lewis P. Hobart. The client was civil engineer George A. Bos.
David Atkins House
1055 Green Street
Built c1866
Remodeled 1915
When constructed around 1866, this building was a simple one-story hip-roofed Italianate with a high basement and Stick-style added portico. In 1915, Julia Morgan remodeled it in the Beaux Arts style for importer and merchant David Atkins.
Charles and Ethel Fickert House
1060 Green Street
Built 1912
This Colonial Revival residence was designed by architect Edward T. Foulkes who also designed the Oakland Tribune building.
The original owner, Charles M. Fickert, was the district attorney of San Francisco from 1909 until 1920. He prosecuted Thomas Mooney and Warren Billings for the Preparedness Day bombing of 1916. Witnesses claimed Fickert coached them to perjure themselves in subsequent hearings. Fickert, who had played foorball at Stanford, defended his honor with his fists, first against Francis J. Heney at the Olympic Club and then against newspaper editor Fremont Older at the Palace Hotel.