Historic Sites and Points of Interest in Yolo County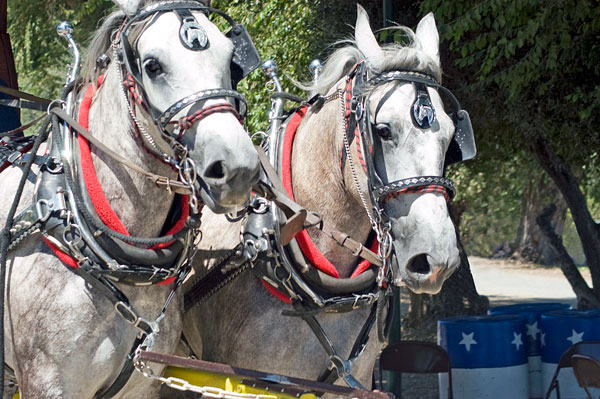 Carriage Horses from Three Feathers Ranch at the Yolo County Horse Show
11 August 2006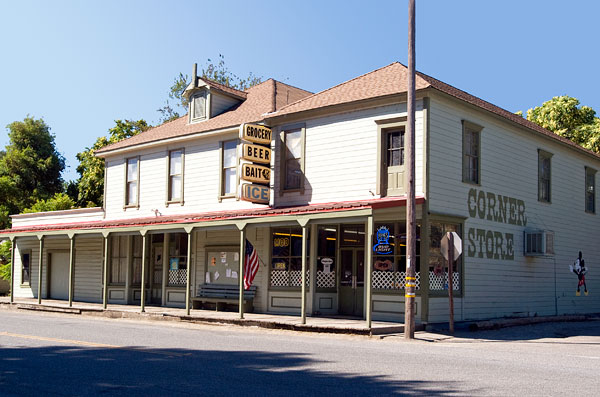 Corner Store in Guinda, Population ~225
11 August 2006
Yolo County was one of the original 27 counties created when California became a state in 1850.
The name Yolo may be derived from the native Patwin Indian word yo-loy meaning "abounding in the rushes." Other historians believe it to be the name of the Indian chief, Yodo, or the Indian village of Yodoi.
The first recorded contact with Westerners occurred in the late 1830s. These included Spanish missionaries as well as trappers and hunters who could be found along the banks of Cache Creek, which was named by French-Canadian trappers.
The first white settler was William Gordon who received a land grant from the Mexican government in 1842 and began planting wheat and other crops.
The towns of Yolo County first developed along the Sacramento River. Its first town, Fremont, was founded in 1849 along the confluence of the Sacramento and Feather Rivers and became the first county seat. Knights Landing, Washington, Cacheville (later called Yolo), Clarksburg, Winters, Esparto, Capay, Guinda, and Davisville (Davis) were all built near waterways. Davisville had the added advantage of being on the path of the newly constructed railroad.
Woodland, which became the county seat in 1862, began in a wooded area of valley oaks and was also served by a nearby railroad.
Source: Yolo County
| Name | Address | City | Year | Authority | ID | Sort Address | Sort Name |
| --- | --- | --- | --- | --- | --- | --- | --- |
| Animal Science Building | West Quad and Peter J. Shields Avenue | University of California Davis | 1928 | National | 1986001354 | University of California | Animal Science Building |
| Beamer House | 19 3rd Street | Woodland | | National | 1982002283 | Street 03 0019 | Beamer House |
| Bryte | 1548 Lisbon Avenue | West Sacramento | | POI | | Lisbon 1548 | Bryte |
| Cañon School | Highway 16 and County Road 76 | Brooks | 1884 | National | 1972000264 | Brooks | Cañon School |
| Capay-Langville School | Main Street East of CR 85 | Capay | | POI | | Main | Capay-Langville School |
| Cradwick Building | 17 Main Street | Winters | | POI | | Main 0017 | Cradwick Building |
| Cranstan House | 610 First Street | Woodland | | POI | | Street 0610 | Cranstan House |
| Davis City Hall | 226 F Street | Davis | | POI | | Street F 0226 | Davis City Hall |
| Davis Subway | Richards Boulevard Between Olive Drive and 1st Street | Davis | 1917 | National | 1998000713 | Richards Boulevard 0000 Olive | Davis Subway |
| Downtown Winters Historic District | 1-48 Main Street | Winters | 1875 | National | 1996001536 | Main 0001 | Downtown Winters Historic District |
| Downtown Woodland Historic District | Main Street From Elm Street to Third Street | Woodland | 1866 | National | 1999000471 | Main 0000 Elm | Downtown Woodland Historic District |
| Dresbach-Hunt-Boyer House | 604 2nd Street | Davis | 1875 | National | 1976000540 | Street 02 0604 | Dresbach-Hunt-Boyer House |
| First Pacific Coast Salmon Cannery Site | West Sacramento River Walk Near Ziggurat | West Sacramento | 1864 | California | 1040 | West Sacramento | First Pacific Coast Salmon Cannery Site |
| Gable Mansion | 659 First Street | Woodland | 1885 | California | 864 | Street 01 0659 | Gable Mansion |
| Gibson House | 512 Gibson Road | Woodland | | National | 1976000542 | Gibson 0512 | Gibson House |
| Hotel De Viblis | Main Street and Railroad Avenue | Winters | | POI | | Main | Hotel De Viblis |
| Hotel Woodland | 426 Main Street | Woodland | 1927 | National | 1994001225 | Main 0426 | Hotel Woodland |
| I Street Bridge | State Highway 16 | Sacramento | | National | 1982002233 | State Highway 016 0000 | I Street Bridge |
| I.O.O.F. Building | 723 Main Street | Woodland | 1905 | National | 1982002284 | Main 0723 | I.O.O.F. Building |
| Knights Landing | On Levee at Front and Mill Streets | Knights Landing | | POI | | Front | Knights Landing |
| Krellenberg Building | 726 Main Street | Woodland | | POI | | Main 0726 | Krellenberg Building |
| Leake House | 547 2nd Street | Woodland | | POI | | Street 0547 | Leake House |
| Leonidas Taylor | Old River Road | Beatrice | | POI | | Old River | Leonidas Taylor |
| Lincoln Highway | Russell Boulevard and B Street | Davis | | POI | | Russell | Lincoln Highway |
| Lincoln Highway | Russell Boulevard and Arthur Street | Davis | | POI | | Russell | Lincoln Highway |
| Moore House | County Road 18C Between Highway 113 and County Road 102 | Woodland | | National | 1978000827 | County Road 18C | Moore House |
| Nelson Ranch | 41070 County Road 18C | Woodland | | National | 1972000266 | County Road 18C 41070 | Nelson Ranch |
| Pony Express Bridge | West Sacramento River Walk Near Ziggurat | West Sacramento | | POI | | West Sacramento | Pony Express Bridge |
| Porter Building | 501-511 Main Street | Woodland | 1914 | National | 1978000828 | Main 0501 | Porter Building |
| Route 66 Homage | 52 Jefferson Street | Woodland | | POI | | Jefferson 0052 | Route 66 Homage |
| Rumsey Town Hall | State Highway 16 and Manzanita Street | Rumsey | | National | 1972000265 | State Highway 016 Manzanita | Rumsey Town Hall |
| Solano House Pony Express Remount Station | Old Davis Road | Davis | | POI | | Old Davis | Solano House Pony Express Remount Station |
| Southern Pacific Railroad Station | 840 2nd Street | Davis | 1913 | National | 1976000541 | Street 02 0840 | Southern Pacific Railroad Station |
| St. Mary's Chapel and Cemetery | 12000 County Road 98 | Yolo | | POI | | County Road 098 | St. Mary's Chapel and Cemetery |
| Temporary Building 9 | Old Davis Road and Hutchinson Drive | University of California Davis | | National | 2016000153 | Old Davis | Temporary Building 9 |
| Tower Bridge | State Highway 275 Across Sacramento River | Sacramento | | National | 1982004845 | State Highway 275 0000 | Tower Bridge |
| Tufts House | 434 J Street | Davis | 1890 | National | 1979000571 | Street J 0434 | Tufts House |
| Union Church of Dunnigan | 3615 County Road 89A | Dunnigan | 1894 | National | 2003000613 | County Road 89A 3615 | Union Church of Dunnigan |
| Vaca Valley Railroad | Railroad Avenue at Putah Creek | Winters | | POI | | Railroad | Vaca Valley Railroad |
| Walnut Street School | 175 Walnut Street | Woodland | | National | 2006000144 | Walnut 0175 | Walnut Street School |
| Washington Firehouse | 317 3rd Satreet | West Sacramento | | National | 20100000882 | Street 03 0317 | Washington Firehouse |
| West Capitol Raceway | 4200 West Capitol Avenue | West Sacramento | | POI | | Capitol 4200 | West Capitol Raceway |
| Winters City Hall | 318 First Street | Winters | | POI | | Street 01 0318 | Winters City Hall |
| Woodland Carnegie Library | 250 First Street | Woodland | 1904 | National | 1981000183 | Street 01 0250 | Woodland Carnegie Library |
| Woodland Opera House | 320 2nd Street | Woodland | 1896 | California | 851 | Street 02 0320 | Woodland Opera House |
| Woodland Opera House | 320 2nd Street | Woodland | 1896 | National | 1971000212 | Street 02 0320 | Woodland Opera House |
| Yolo Branch Library | 37750 Sacramento Street | Yolo | | National | 1990001810 | Sacramento 37750 | Yolo Branch Library |
| Yolo County Courthouse | 725 Court Street | Woodland | | National | 1986003660 | Court 0725 | Yolo County Courthouse |
| Yolo County Courthouse | 521 C Street | West Sacramento | | POI | | Street C 0521 | Yolo County Courthouse |
| Yolo County Savings Bank | 435 Main Street | Woodland | 1903 | POI | | Main 0435 | Yolo County Savings Bank |